Apple will live stream event -- but not on PCs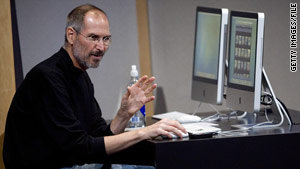 Apple CEO Steve Jobs will stream Apple's Wednesday event live online -- but only to Apple devices.
STORY HIGHLIGHTS
Apple's 1 p.m. ET event will be streamed live, but only to Apple devices

Observers say it's the first time a company has streamed only to its products

Live streaming could test new video offerings, possibly including Apple TV upgrades

Don't miss Steve Jobs' big announcement today on cnn.com/live and CNN's app for the iPhone starting at 1:30 p.m. ET.
(CNN) -- Apple users will get to watch live today as the company, at an event presumably led by CEO Steve Jobs, announces new services and products.
Everybody else is out of luck.
Late Tuesday, Apple announced that it will be live streaming the 1 p.m. ET event on its Apple.com website.
Viewing requires a Mac running the Safari web browser (on Mac OS X version 10.6 Snow Leopard), an iPhone or iPod Touch running the operating system iOS 3.0 or higher, or the iPad.
The blog post announcing the streaming is short on other details.
Tech analysts on Wednesday were saying that this is the first time they can recall a company making news available only on its own products. The move was also seen as typical of Apple, whose products employ their own walled-off operating systems.
Immediately after the announcement, speculation about the logic behind the move began.
An emerging theory is that Apple will announce upgrades to its Apple TV service (with a report from Bloomberg saying it will include the ability to stream movies from Netflix). The live stream may be a way to show the capability to Apple users in real time.
The iTunes Store also is expected to get an upgrade, and that could include streaming ability that Jobs may want to show off.
The live stream could be a sort of trial run for any new streaming technology the company will announce.
The Cult of Mac blog, citing an anonymous source, reported that Apple is live streaming the event as a test of a massive new data center it will open later this year in North Carolina.
MG Siegler at technology blog TechCrunch and others were speculating that the move might have to do with the embarrassing difficulty Jobs had getting a Wi-Fi connection during the iPhone 4 unveiling in June.
"[Y]ou can imagine Apple telling guests to turn off Wi-Fi hot spots in the beginning and noting that the entire event is being streamed if they're worried about their readers missing anything," Siegler wrote.
He did note that today's event is at a smaller venue than the iPhone 4 keynote event, meaning there should be fewer reporters in the hall jockeying for bandwidth.
FOLLOW THIS TOPIC