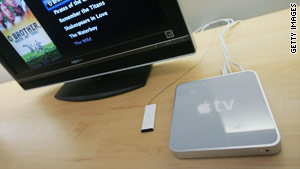 Apple appears to be moving further into the market for online and mobile television.
STORY HIGHLIGHTS
Apple may offer TV programming for rental through iTunes, according to a report

TV shows would be available soon after they aired; they would cost 99 cents

An announcement about the deal reportedly is set for September 7

People can only buy shows on iTunes now; Apple has not commented on the report
(CNN) -- In a move that could further popularize online and mobile video, Apple's iTunes store this fall may begin renting TV programming to viewers for 99 cents per episode, according to a report from Bloomberg News.
The report, which cites three unnamed sources familiar with the situation, said Apple "is in advanced talks" with News Corp. to offer Fox programming for rental through iTunes.
The digital files would be available to renters for 48 hours after they were purchased, and new episodes would go online within 24 hours of airing on television, according to the report.
Apple also is in reported talks with CBS, NBC and Disney, which owns ABC, to offer similar deals, according to Bloomberg.
News Corp. spokesman Jack Horner declined to comment on the situation. An Apple spokesman said the company does not comment on speculation.
Bloomberg said an announcement about the deal will come at an Apple press event to be held in September. Apple on Wednesday afternoon sent out an invitation to the news media for an event in San Francisco, California, on September 1. The invite did not specify the subject of the event.
Currently, people who want to watch TV through iTunes must purchase episodes at a higher rate, usually about $1.99. There are no existing services that allow people to rent individual television episodes soon after airing in the way Apple is reportedly pursuing. Some TV network websites and others such as Hulu.com, however, do offer programming for free with commercials.
The iTunes TV rentals would be commercial-free, according to the report.
The lower rental price may be enough to entice new people to start watching television on their mobile phones or computers, writes Jacqui Cheng of Ars Technica, a CNN.com partner site.
The $1.99 price point is "just high enough to annoy many customers who are used to getting TV for free, but low enough that people pay it," she writes.
"A 99-cent TV rental would obviously be a little closer to free and, if the shows remain commercial-free like the rest of iTunes, would be an upgrade from watching them on the boob tube or Hulu."
Amazon and Netflix are among Apple's other competitors in online TV. Netflix lets subscribers stream some TV programming on computers or onto their TVs with the help of a set-top device such as the Roku or Xbox. Many TV shows are available through Netflix, but they usually aren't available until well after they've aired.
People can rent digital movies from Amazon and can purchase seasons and episodes of TV shows, but they cannot rent television programming.
iTunes TV show rentals could boost Apple's mobile device sales.
"While available on any platform that can run iTunes, the deal would almost certainly be a boon to Apple's iOS stable -- iPad, iPhone and iPod," writes Ryan Singel at Wired.com, another CNN.com content partner. "iOS users already use iTunes as their media hub for buying apps and music, as well as renting movies -- helping to make the iTunes store the world's largest digital music retailer."
Further announcements about Apple TV, Apple's set-top box to bring iTunes movies and videos to home living rooms, also may be coming in September.
There are rumors the product will be renamed iTV, and that its price will be dropped to $99. Bloomberg also reports that a new version of the iPod Touch, with a higher-resolution screen, may be announced next month.
FOLLOW THIS TOPIC