Scavengers zero in on downed unmanned aircraft, leaked reports show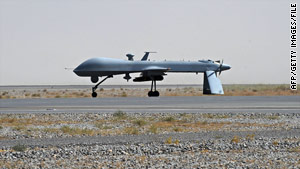 A U.S. Predator unmanned drone is on the tarmac of a military airport in Kandahar, Afghanistan, in June.
STORY HIGHLIGHTS
Documents posted by WikiLeaks tell of plundered or damaged unmanned aerial vehicles
They are often stripped of parts before military units get to them
In one case, the nose was missing, and the engine was burned, report says
Washington (CNN) -- When unmanned aircraft crash in Afghanistan, scavenger hunters frequently aren't far behind, U.S. military incident reports published by WikiLeaks suggest.
On several occasions, military units sent to recover the aircraft -- known as tactical unmanned aerial vehicles -- have arrived to find the aircraft stripped of valuable parts.
In April 2007, a parachute deployed on one that had maintenance issues, one report says. Troops sent to recover the aircraft couldn't reach it until the next day, when they discovered it was missing some of its electronic components and its payload.
What WikiLeaks reports tell us
The report said the Afghan National Police and local elders "will continue to work with [local residents] to recover any pieces that were collected by inappropriate personnel."
Similarly, a report on an unmanned aerial vehicle that crashed in March 2008 reads: "The nose of the UAV is missing and the engine is burned. There are multiple footprints in the area from locals."
Also, in November 2008, a drone had a hard landing with its parachute deployed. The aircraft was destroyed, the report said, but "several components in good condition were grabbed by LN [local residents] before the QRF [quick reaction force] arrival."

Video: The WikiLeaks fallout

Video: Former ISI chief on WikiLeaks allegations
The whistleblower website WikiLeaks.org published more than 75,000 military reports on Sunday.
The documents date from between 2004 and January 2010, and are divided into more than 100 categories.
Tens of thousands of pages of reports document attacks on U.S. troops and their responses, relations between Americans in the field and their Afghan allies, intramural squabbles among Afghan civilians and security forces, and concerns about neighboring Pakistan's ties to the Taliban.
The website's founder and editor in chief, Julian Assange, told CNN's "Larry King Live" that the first-hand accounts represent "the cut and thrust of the entire war over the past six years," from the military's own raw data -- numbers of casualties, threat reports and notes from meetings between Afghan leaders and U.S. commanders.
CNN has not independently confirmed the authenticity of the documents. The White House condemned the release of the documents as "a breach of federal law," but simultaneously dismissed them as old news.
FOLLOW THIS TOPIC