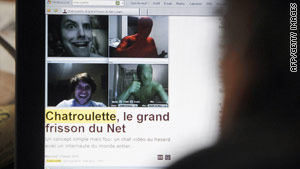 Chatroulette's founder says he has come up with a way to reduce possibly illegal nudity on the video chat site.
STORY HIGHLIGHTS
Chatroulette is a website that pairs people up for random video chats

The site has been plagued with online flashers, leading to an exodus

But its founder says he has a solution: Turn the naked people over to the cops
(CNN) -- It all comes down to the flasher problem.
The website Chatroulette -- which unites people all over the world for live, random video chats -- has been plagued by awkward, and possibly illegal, nudity since it became wildly popular in February of this year.
People who log onto the site with a webcam are thrown into a video conversation with a stranger, who, according to one analyst's report, is likely to be a stranger without pants more than 10 percent of the time.
Meanwhile, the site's founder, a Russian teenager named Andrey Ternovskiy, continues to say that he's out to create a "perfect video world" where people can talk across national borders and beyond social cliques and demographics.
The major hitch in that utopian vision: the nakedness, which led some to turn away from the site.
Salon.com posted an article on June 29 titled "R.I.P. Chatroulette," citing lewd material on the site as the reason it will die a fad.
"Cause of death: penises," Salon wrote.
But on Friday, Ternovskiy proposed a solution: Track down the naked offenders and turn them in to the cops.
"With the help of a few good developers we've started collecting information, such as IP addresses, logs and screen captures of offenders who actually break US/UN laws by broadcasting innapropriate [sic] content in a specific situations," he writes.
"I hope that with help of a Criminal law we can finally get the problem out of our shoulders and get existing organizations which usually solve these kind of problems to help us."
He also posted a warning on Chatroulette's notoriously spare homepage:
"Warning: Broadcasting inappropriate content to minors is a violation of both US and UN law. We are actively cooperating with law enforcement agencies."
It remains to be seen how effective these efforts will be.
And they're not the first Ternovskiy has tried.
Chatroulette has instituted other changes in recent weeks in an effort to separate potentially offensive content from people who just want to talk.
The site added several adult-themed "channels," as well as a "local" channel for people who want to talk to -- or date -- webcammers who live nearby.
Some of the features appeared to be down for maintenance on Monday, but the blog TechCrunch says the adult channels have proved to be the most popular.
Ternovskiy also writes that the site has tried to use image-recognition technology and other methods of automated analysis to flag naked offenders.
But he still holds out hope that, with the help of authorities from the U.S. and the U.N., Chatroulette will be able to flourish again as it did "before it was discovered by a strange people, who started to abuse the true freedom and democratic nature of the service," he writes.
He calls that time the site's "honeymoon" period.
"I hope that someday our service will become a beautiful video world, an internet country with no borders and locations," he writes.
FOLLOW THIS TOPIC