1,000 images per page on new Google search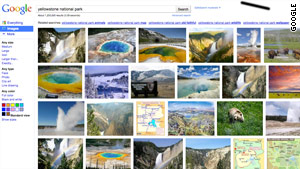 Google says image search users should see the changes in the next week.
STORY HIGHLIGHTS
New Google Images Search can show up to 1,000 images per page

About 10 percent of users have new version, others will be rolled out in the coming week
(CNET) -- Google took the wraps off a new look for Google Images Search on Tuesday, putting up to 1,000 images on the first results page and implementing a new image-based ad format.
Google Images Search hadn't received a major update since 2001, said Marissa Mayer, vice president of search products and user experience, during a briefing for reporters at Google's San Francisco offices.
The new look is designed to reduce the number of clicks it takes to find the image you're looking for and to provide more information about a particular image without having to click through to the result.
For basic searches such as "Yellowstone," Google Images Search will now return up to 1,000 images on a single page, using something called "infinite scroll" to navigate down the page looking for the right image.
The company also built a thumbnail preview that pops up when you hover over a given image with information such as the URL where it is located, said Ben Ling, director of search products at Google.
Users of Microsoft's Bing Image Search will find the interface familiar. Bing also uses its version of an "infinite scroll" to let users scroll through images without clicking through any number of search results pages, and offers up some background information in a thumbnail preview.
On the business end,Google announced that advertisers on Google Images Search pages will be able to insert an image into their text ads.
The idea is that such ads will be more relevant and catchy, hopefully enticing more users to click on those ads and generating more traffic for Google's advertisers and more revenue for the search company.
Around 10 percent of Google Images Search users are seeing the new interface at the moment, and it will roll out for the rest of its users over the coming week
© 2010 CBS Interactive Inc. All rights reserved. CNET, CNET.com and the CNET logo are registered trademarks of CBS Interactive Inc. Used by permission.
FOLLOW THIS TOPIC