U.S. not getting broadband fast enough, FCC says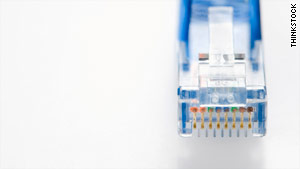 Millions of Americans still lack broadband internet, which the FCC says is a detriment to economic growth.
STORY HIGHLIGHTS
Immediate prospects for giving all of U.S. broadband are "bleak," FCC says

FCC: As many as 24 million Americans lack access to broadband

Newly pessimistic stance contradicts previous statements by the FCC
(CNN) -- Between 14 million and 24 million Americans still lack access to broadband internet, and "immediate prospects for deployment to them are bleak," said the U.S. Federal Communications Commission on Tuesday.
This newly pessimistic stance contradicted previous statements by the FCC, which had said that high-speed internet service was being made available to all Americans in a timely fashion.
The statement was part of a comprehensive report by the federal agency that attempts to measure the country's progress in closing the "digital divide" that separates relatively wealthy, wired communities from less affluent, sparsely populated areas with no access to affordable broadband.
The report found disproportionately large segments of people without broadband access in rural areas of North Carolina, Texas, South Carolina, Mississippi, Arkansas, Oklahoma and Kentucky, among other states.
Tuesday's report, the FCC's sixth on the subject since it was mandated to do so by the Telecommunications Act of 1996, is "the first really credible effort" by the agency to deliver findings based on quality data, said FCC Commissioner Michael J. Copps.
"The sixth time is the charm," he added. "The documented failure to connect millions upon millions of Americans disproves previous FCC findings that broadband is being reasonably and timely deployed."
While the adoption of broadband has grown "significantly" over the last decade, "we still have a long way to go to ensure that all Americans have broadband access," Copps said.
High-speed internet providers have said it is not economically feasible for them to install broadband in areas with few potential subscribers.
The FCC supports the growth of broadband through public-private partnerships. In a "National Broadband Plan" announced in March, the agency said it hopes to use educational programs and an expansion of internet infrastructure to give 90 percent of Americans high-speed web access at home by 2020.
Currently, about 65 percent of Americans have high-speed internet access at home, which the FCC says is a detriment to economic growth. The FCC also wants to speed overall connections, which are often criticized as slow by global standards.
"Broadband is critical 21st century infrastructure, to which every American household and small business must have access to maximize our nation's economic growth, catalyze investment, spur job creation, and ensure our global competitiveness," said FCC Chairman Julius Genachowski.
The FCC report also updates a key standard -- the speed used to determine whether households are served by broadband. The standard shifts from 200 kilobits per second downstream, a standard set over a decade ago when web pages were largely text-based, to 4 megabits per second downstream, a minimum generally required for using today's video-rich applications and services.
FOLLOW THIS TOPIC