Can YouTube's Leanback become your new cable?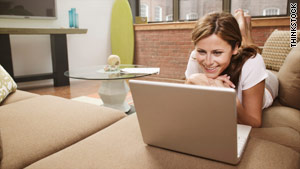 When you watch a video on Leanback, it will automatically show another related video based on your choice.
STORY HIGHLIGHTS
YouTube's Leanback is like a video version of the free music service Pandora

GoogleTV will have to be successful for Leanback to really take off

Wii Leanback will allow users to control Leanback via the Nintendo Wii-mote
Editor's note: Damon Brown is a northern California-based freelance writer and author of books, including "Damon Brown's Simple Guide to the iPad" and "Porn & Pong: How 'Grand Theft Auto,' 'Tomb Raider' and Other Sexy Games Changed Our Culture."
(CNN) -- Earlier this month YouTube launched a new feature called Leanback. The goal? To turn your brief YouTube jaunts into a passive couch-potato experience.
It's all part of a bigger plan for YouTube owner Google to take over the boob tube.
Leanback is like a video version of the free music service Pandora. Click on a video and, based on your choice, Leanback will automatically show another similar video. The more videos you watch, the better Leanback can "predict" what you like. It's a customizable channel for you.
Leanback is actually a buzzword used to describe television watching and console gaming. Think about it: When you're on the computer, as you probably are now, you lean forward over the keyboard and the mouse toward the monitor. Compare this with TV, where you lean back, relaxed into the sofa cushions.
It will be an uphill battle for YouTube. First, it has to get you to stop thinking of three-minute keyboard cat videos and, instead, about programs with actual substance. YouTube recently invested $5 million for indie directors who would like to get their Kevin Smith on for the site.
Second, peering at a computer screen may not be the ideal way to check out Leanback content. Google announced GoogleTV earlier this year, which will have to be successful for Leanback to really take off. Apple is rumored to be revamping its Apple TV, internet content player Boxee is hitting the boob tube this November and a slew of other rivals are also jostling for Web-TV dominance. We easily could be getting our Web-enabled goodness somewhere else by this holiday.
You can give Leanback an early TV test drive now. An internet-connected Microsoft XBox 360, Sony PlayStation 3 or Nintendo Wii can show YouTube through their respective Web browsers.
If you really want to get nerdy, check out the upcoming Wii Leanback that allows you to control the feature via the Nintendo Wii-mote with only a Bluetooth connection. Keep in mind the indie product isn't sanctioned by Nintendo.
FOLLOW THIS TOPIC