Clicking small links on bit.ly keeps getting bigger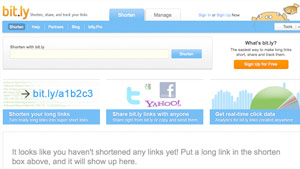 URL shortener bit.ly gets about 4.7 billion clicks per month, according to the company.
STORY HIGHLIGHTS
The URL-shortening tool bit.ly attracts almost 5 billion clicks per month

New bit.ly partners include Yahoo, Pepsi and Toys "R" Us

Bit.ly got a huge bump when made Twitter's default shortener last year
(CNN) -- The rise of Twitter and instant messaging has been good to bit.ly -- the URL-shortening service that has become a go-to tool for users across the web.
On Thursday, while announcing a host of new partners for its premium pay service, bit.ly trotted out a big number for a service based on little links.
Bit.ly is nearing 5 billion clicks per month, according to a post on the company's official blog.
The service's website has become the No. 76 most-visited destination on the internet, according to Google's DoubleClick ranking, ahead of sites like eBay, MapQuest and the New York Times.
Bit.ly had 4.7 billion "decodes" in May, said the blog post.
Launched in 2008, bit.ly one-upped existing URL shorteners such as TinyURL by offering features like letting users track statistics on how many people clicked their links and how many other people were linking to the same thing.
It got a huge boost last year when Twitter -- the microblogging site where users shrink massive URLs to fit tweets within the 140-character limit -- replaced TinyURL with bit.ly as the default link shortener.
Simply put, URL shorteners let people share links to webpages they like without having to copy a sometimes-massive strand of letters, numbers and symbols onto the spot where they're sharing it.
The service is free for average users.
Bit.ly also announced a host of businesses and bloggers who have signed up for bitly.Pro, a premium service, in the past few months.
Those partners include Yahoo, MySpace, Pepsi, C-SPAN, Amazon, Mozilla, NPR, the New York Times and Toys "R" Us.
The pay version of bit.ly offers advanced analytics tools and the ability to brand shortened links -- huff.to for the Huffington Post or yahoo.it for Yahoo, for example.
As it grows, New York-based bit.ly continues to branch out. In December, it launched bitly.tv -- a page showcasing the web videos that are being shared the most with bit.ly links.
FOLLOW THIS TOPIC