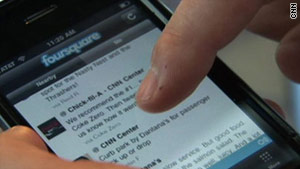 Foursquare was down for about 11 hours on Monday and again briefly on Tuesday.
STORY HIGHLIGHTS
Foursquare outage caused by faulty server, staff says

Users weren't able to check in on the mobile app from about noon ET to nearly midnight

Foursquare was also down for a few hours on Tuesday
(CNN) -- Mobile check-in app Foursquare's Monday outage happened after staff tried to fix one problem and somehow triggered another.
Then another glitch hit Tuesday, just hours after they were up and running again.
"It sucked for everyone (including our team -- we all check in everyday, too)," the always irreverant Foursquare staff said in a blog post late Tuesday. "We know how frustrating this was for all of you because many of you told us how much you've come to rely on foursquare when you're out and about. For the 32 of us working here, that's quite humbling. We're really sorry."
The post's title: "So, that was a bummer."
Tuesday's outage was shorter and more spotty.
"[W]e had downtime on Monday and Tuesday, but things should be ok now," Foursquare support's Twitter account reported at about 2 a.m. Wednesday.
Monday's glitch was caused when one of the app's servers was noticed storing too much data. When the support team went to fix in, all the other servers went down.
The blog said Foursquare is working with the company that makes the system that runs their servers. It also said changes are planned in the coming weeks and that the New York-based startup will communicate problems to users better in the future.
The outage prevented the app's nearly 3 million users from checking in between about noon ET on Monday and just before midnight.
Launched in 2008, Foursquare is a location-based app that lets users "check in" at clubs, restaurants or most any other place they visit. Checking in alerts that person's friends to his or her whereabouts. As a social-networking tool, the app is designed to help friends find and socialize with each other.
And its game aspect lets players earn virtual badges for certain accomplishments (visit 10 different movie theaters for the "zoetrope" badge, for instance) and the most frequent visitor to a spot becomes its "mayor."
As of last month, Foursquare was nearing 3 million users, with more than 15,000 businesses offering special deals to people who check in there, according to its website.
On Monday, Foursquare's New York-based staff was using various Twitter feeds to update users, sometimes lightheartedly.
"The servers are overloaded but we're working on it! We will be back up ASAP," someone wrote on Foursquare's technical support Twitter feed.
The post was followed by the hashtag #caseofthemondays. Hashtags are ways Twitter users can find other people talking about the same thing or make joking follow-up comments -- in this case a reference to the movie "Office Space."
A later tweet said that Foursquare's entire engineering team had been called in to handle the problem.
In recent weeks, Foursquare has been updating its app with new features, including the creation of a "to do" list that ratchets up the game-play aspect of it.
Since then, users have reported sporadic trouble checking in, although Monday's was the longest widespread outage.
The app is facing increasing competition from the social networking giant Facebook, which recently launched a feature called Places that lets its 500 million members "check in" to locations, much as they can on Foursquare.
FOLLOW THIS TOPIC