Facebook up after second outage in two days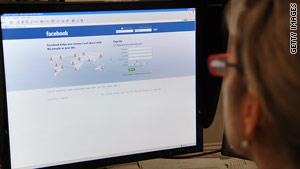 A Facebook spokeswoman said Thursday issue not related to issue on Wednesday that shut or slowed the site.
STORY HIGHLIGHTS
Facebook service restored at about 5:30 p.m. ET

Facebook was down for a few hours Thursday, the second day in a row

Spokeswoman said the problem wasn't related to a similar outage on Wednesday

Users flock to Twitter ... to talk about Facebook
(CNN) -- Facebook was down for many users for several hours Thursday, the second day in a row access to the site was hampered.
"Today we experienced technical difficulties causing the site to be unavailable for a number of users," a spokeswoman said in an email. "The issue has been resolved and everyone should now have access to Facebook. We apologize for any inconvenience."
The problem started early Thursday afternoon and was resolved by about 5:30 p.m. ET.
The spokeswoman said the issue was not related to the one from Wednesday, when problems with a third-party network provider shut the site down, or slowed it badly, for several hours. She didn't elaborate on the nature of Thursday's outage.
With more than 500 million users, Facebook is the world's largest social-networking site.
On Facebook's blog for developers, a post said the site was "experiencing latency issues," or a time delay, with its platform. But some tech observers speculated that the delay on the developers' platform was unlikely to have been the entire cause of the problem.
As usual, Facebook's outage led thousands of social networkers to Twitter to, well ... talk about Facebook.
"Somebody needs to fix Facebook ASAP," wrote Gizmodo blogger Rosa Golijan on her Twitter feed. "I don't like having to tweet to show that I 'like' all the stories about it being down."
Several sarcastic Twitter users bemoaned the fate of the undernourished virtual plants and animals of FarmVille, while others (presumably with a degree of self-awareness) remarked on the ramifications of the outage.
"OPB BREAKING NEWS: Facebook is down," read a message on Oregon Public Broadcasting's feed. "Worker productivity rises. U.S. climbs out of recession."
FOLLOW THIS TOPIC