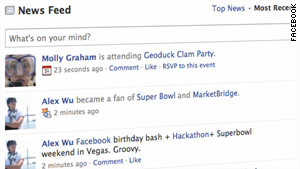 Will Facebook add a mobile phone to its social networking options? It denies it -- sort of.
STORY HIGHLIGHTS
Facebook denies tech blog reports it's "building a mobile phone"

But CNET cites sources saying it has reached out to phone manufacturers and carriers

Spokesperson didn't answer whether it was considering Facebook-branded phone
(CNN) -- Facebook denied a story published this weekend that says the company is "building a mobile phone," but CNET has confirmed that the social-networking giant has reached out to hardware manufacturers and carriers seeking input on a potential Facebook-branded phone.
[Technology blog] TechCrunch published a story saying "Facebook is building a mobile phone ...or rather, they're building the software for the phone and working with a third party to actually build the hardware."
Facebook quickly tried to discredit the story, with a spokesman telling CNET that "Facebook is not building a phone. Our view is that almost all experiences would be better if they were social, so integrating deeply into existing platforms and operating systems is a good way to enable this."
However, Facebook appears to be splitting hairs over the phrase "building a phone" because the reality is that the company this summer did seek input from hardware manufacturers and carriers as it kicks the tires on whether a Facebook phone indeed makes sense.
The idea is simple: an outside company such as Samsung or HTC would build the hardware for an Android-powered phone that would have Facebook's social-networking features deeply integrated and would run on a carrier such as AT&T, possibly under an exclusive deal similar tothe iPhone.
Notably, even though Facebook issued a lengthy denial, the spokesman did not respond when CNET asked if the company is considering marketing a Facebook-branded phone made by a third party.
One source familiar with the matter said the concept is in the very early stages and Facebook apparently has not determined whether to proceed. However, around Silicon Valley, Facebook is notorious for floating ideas that get leaked, but the company either walks away entirely or goes in a dramatically different direction.
For example, two years ago the company was said to bebuilding a music service to challenge MySpace Music, but Facebook still has no similar offering.
And while Facebook's e-commerce product was originally rumored -- and, it appears, sketched out so far as to be pitched to potential partners -- as "Facebook Wallet," a competitor to PayPal, the social-networking giant announced in February that it would partner with the eBay-owned PayPal for its transaction technology, a virtual currency called Facebook Credits.
For Facebook executives and observers, the question is how a branded phone would benefit the company. The answer could partly lie in the lessons learned from Google with the Nexus One and Microsoft with the Kin, two products backed by deep-pocketed companies that nonetheless failed miserably.
The world's leading search engine got into the cell phone game early this year with the Nexus One (which the company also denied it was pursuing just weeks prior to its unveiling in January.)
Not content with developing an operating system alternative to the iPhone with its Android project, Google got into the phone business for itself in January with the Nexus One.
Google said the so-called "superphone" was intended to spur hardware development within the Android world and, over the long term, transfer power in the mobile market from the wireless carriers to the software developers and handset makers.
It didn't work.
Google was unable to convince the public to buy a phone through its Web-only store, and when Verizon, its closest friend, decided not to offer the phone to its subscriber base as originally planned, the writing was on the wall.
Google still keeps a few Nexus Ones around to serve as practice phones that Android developers can buy, but all attempts at making the Nexus One a mass-market phone were abandoned this summer.
An even closer parallel to a possible Facebook phone -- and arguably an even bigger disappointment -- is the Kin.
Similarly intrigued by the convergence of two huge trends, the growth in social media and mobile phones, Microsoft worked on the Kin for several years with the target market being always-connected youths.
However, the product was discontinued in June after just two months in consumers' hands.
Would a Facebook phone suffer the same fate of the Nexus One or the Kin, or has Facebook learned from those flops? Its half-billion global users could be the difference.
© 2010 CBS Interactive Inc. All rights reserved. CNET, CNET.com and the CNET logo are registered trademarks of CBS Interactive Inc. Used by permission.
FOLLOW THIS TOPIC