STORY HIGHLIGHTS
New check-in apps let users tell friends what they're watching, listening to or reading

Trend a response to location-based apps like Foursquare and Facebook Places

GetGlue awards stickers for active users; Miso aims to connect TV fans

Entertainment companies already signing up, seeing potential in thousands of check-ins
(CNN) -- Intrigued by Foursquare, or Facebook's new Places feature, but not sure anybody would be interested in where you go every day?
Take heart, couch potatoes -- a gang of new mobile applications are starting to emerge, and they're designed just for you.
Let's face it -- most of us aren't hitting The Scratcher, Foursquare founder Dennis Crowley's favorite East Village watering hole, every other night or battling to be the "mayor" of our neighborhood coffeehouse.
But apps like GetGlue, Miso and Philo are geared toward more solitary pursuits -- letting users "check in" to their favorite TV shows, or when they start a new book or go see a movie.
These apps let users earn virtual rewards and meet fans with similar interests. Users also can push their check-ins to other sites, such as Facebook and Twitter, to keep the conversation going.
They each have their own benefits on top of that, from giving users recommendations based on the things they already like to letting them unlock videos and other extras when they've become "super fans" of a show.
Facebook Places, Foursquare, Gowalla and similar apps are location-based -- meaning they employ GPS to allow users to tell their friends where they are. But what about those of us who don't get out and about as much as we used to?
"Foursquare really is geared toward younger audiences and urban crowds," said Alex Iskold, founder and CEO of GetGlue. "There's only so many times you can check into an Applebee's before they kick you out."
GetGlue was launched in November 2009 by New York-based Adaptive Blue as a browser-based recommendation engine. The mobile app was launched in June.
GetGlue in June had about 550,000 users, who checked in or posted a rating for something about 5 million times, Iskold said.
Several similar apps, most of them only months old, aren't announcing their number of users. GetGlue claims to be several times bigger than its competitors.
GetGlue also is the most wide-ranging tool in the space, with apps for the iPhone and Google's Android operating system (the Android app was released on Tuesday) and applications for the iPad and BlackBerry devices on the way.
While others stick with TV, GetGlue ranges as far as video games and music. Users can earn "stickers" as rewards for checking in. First offered are the virtual kind that will be familiar to Foursquare users, but if people are loyal enough to Showtime's "Weeds," for example, they will get real stickers mailed to them.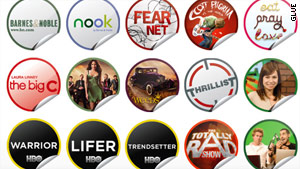 GetGlue users can earn both virtual stickers and real ones for loyally checking into sponsored entertainment.
The app also lets users rate books, movies, games and TV shows. Using those ratings, GetGlue then recommends other entertainment users might like.
The concept is in its infancy. But social-media observers see a huge upside.
"Philo, Miso and GetGlue provide services that allow individuals to make social connections to culture, and that's what sets them apart from the Twitters and Facebooks of the social networking world," wrote Jennifer Van Grove for social-media blog Mashable, a CNN content partner.
"It's this cultural relevance that will create digital bonding experiences and will propel this trend to television watchers outside of the web-tech bubble."
Miso's CEO, Somrat Niyogi, agrees.
While people in the United States may all have different hobbies and engage in different activities away from home, "we know most people do three things -- they eat, they sleep and they watch TV," he said.
"We think the market is massive. We think this is going to be a much bigger market" than location-based apps, he added.
Unlike GetGlue, Miso, which is also available on iPhone, iPad and the Android system, focuses exclusively on TV shows. The app was created by San Francisco, California-based Bazaar Labs, founded by three former University of Texas classmates.
Niyogi and others in the emerging field point to recent surveys that suggest as many as three out of four adults use an internet-connected "second screen" -- usually their mobile phone -- while watching TV. In a similar study, nearly all iPad users said they use the tablet-like Apple device while watching television.
To be sure, the entertainment industry is interested.
For producers of TV, movie, music and books, the appeal of having tens of thousands of people telling their friends about your product is obvious.
GetGlue boasts at least a dozen partnerships with entertainment entities like HBO, Showtime, Universal Pictures and Barnes & Noble.
Miso, whose investors include Google Ventures, launched with an exclusive partnership with TNT (which, like HBO and CNN is owned by Time Warner) and recently announced a deal with WE TV to promote the show "Bridezillas" -- complete with the chance to earn "Cake Smasher" and "Veil Thrasher" badges.
CBS and Comcast also have launched their own social TV apps. Comcast's app is called Tunerfish; their general manager, John McCrea, says what is offered now is just the beginning.
"I see Tunerfish as a social TV service that ultimately will be a great social discovery engine when we get to scale," he said. "Social TV should bring a mix of 'sticky' features together in one cross-platform package -- sharing, discussion, discovery, game mechanics and recommendations."
It's too early in the game to know which of the entertainment check-in apps will emerge as the leader in the field. But they all think that by tapping into mass entertainment, they'll eventually have an advantage over those bar-hopping Foursquare devotees.
"Let's be honest," Niyogi said. "Even in Manhattan, if it's Sunday night, you're probably watching 'True Blood,' too."
FOLLOW THIS TOPIC