Twitter's 'tweet button' -- does it matter?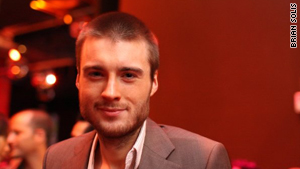 Cashmore: Twitter's new tweet button does what third party applications have been doing for over a year.
STORY HIGHLIGHTS
Twitter's "tweet button" is live, but mimics what third parties have done for over a year

Official button could appeal to sites seeking traffic, but another button could slow pages, too

Move raises questions for developers -- will Twitter copy my app too?
(CNN) -- Twitter unleashed an official "tweet button" today. Given that third parties have provided "retweet buttons" for more than a year, will the official buttons have any impact on the way we share content online?
Use of the existing "retweet" button from Tweetmeme is widespread, making it likely that Web publishers are well aware of Twitter's ability to drive traffic to their pages.
Those who already use such solutions will likely switch, given that the new button requires fewer clicks and has the official blessing of Twitter. But the impact here will be unremarkable: Merely a change from green buttons to the new blue design.
For those websites lacking a "retweet" option, however, the new buttons provide only a spattering of reasons to join the fray.
Users will save a click, since granting a third party access to your Twitter account is no longer a requirement. It's possible that Twitter's buttons load marginally faster, and some say the new buttons are more attractive than existing offerings.
Meanwhile, Twitter claims its buttons offer a "comprehensive count" of the number of times an article has been shared on Twitter -- obviously these more accurate (and presumably higher) counts are attractive to publishers, and may convince some that the buttons are necessary.
But while such "share buttons" can drive traffic from social media sites, they also carry a cost: The more share buttons you include on your pages, the slower your site will load.
At Mashable, for instance, our socially savvy audience shares content extensively through our Facebook Like, Retweet and Digg buttons. But multiple instances of Facebook's Like button add significantly to the load time of our homepage, with Tweetmeme's Retweet button also contributing to slower loads.
Seeking a focus on speed and simplicity, some Web publishers may ultimately decide that they require only one button -- in such instances, Twitter may lose out to the buttons provided by its larger rival, Facebook. Again, an official tweet button has little impact here.
Twitter's official tweet button will bring slight benefits for publishers and Twitter users, but the launch is ultimately unremarkable. Its only significant effect may be to raise fears among third party developers: If Twitter can clone Tweetmeme with ease, which products will the microblogging service usurp next?
FOLLOW THIS TOPIC