Should Facebook add a dislike button?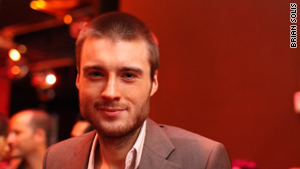 A 'dislike' button on Facebook? Mashable's Pete Cashmore says don't hold your breath.
STORY HIGHLIGHTS
A Facebook group for the concept has nearly 3.2 million fans

Like buttons result in more connections, which creates more value

Dislike buttons would create tension between Facebook, brands, web publishers
(CNN) -- Editor's note: Pete Cashmore is founder and CEO of Mashable, a popular blog about social media. He is writing a weekly column about social networking and tech for CNN.com.
Facebook CEO Mark Zuckerberg told ABC's Diane Sawyer this week that Facebook would "definitely think about" adding a Dislike button to the site, allowing users to express distaste for updates or pages on Facebook.
But Zuckerberg is just humoring us: Facebook will never add a Dislike button, regardless of users' demands.
Here's why:
Demand for the dislike button
There's certainly some demand for dislikes. In answer to Sawyer's question on whether a Dislike button would be considered, Zuckerberg replied: "We listen to all the user suggestions and it's something that we've thought about. You know, people like the Like button so much ... I dunno, it's something that we would definitely think about. People definitely seem to want it."
A Facebook group for the concept has nearly 3.2 million fans, while there are at least two unofficial extensions for the Firefox browser -- FaceMod and Facebook Dislike -- that claim to add a Dislike button for those users who install them.
Those clamoring for a "thumbs down" option seem to fall into two camps. For some, "Liking" tragic news seems inappropriate -- and yet Facebook does offer a "Share" option on its own site, while third party sites can opt to use a "Recommend" button instead. Others simply want to express distaste for a page or news update -- this is a move Facebook will never make, however, because it doesn't align with the company's interests.
The role of the Like button
The Like button serves numerous purposes for Facebook. One obvious benefit is that it lowers the psychological barrier to connecting with commercial entities on the site -- while previously users could "Become a Fan" of a brand, they now imply "Like" that brand's page, resulting in higher engagement. Another is that it increases clicks for web publishers: Facebook users are more inclined to "Like" a news article than they are to hit a "Share" button. A third benefit: Facebook aims to connect people who share similar interests. Like buttons result in more connections, which creates more value.
Downside of Dislike buttons
A Dislike button provides none of these benefits. In fact it would create significant tension between Facebook, brands, and web publishers. Imagine if Facebook users could not only choose to "Like" Coca-Cola, but were also provided the option to "Dislike" the brand. Would Facebook become a more appealing place for brands to spend their marketing budgets and ad dollars ... or a less appealing one? Now imagine that websites could add "Dislike" buttons to their pages. Would web publishers rush to add this option, desperate for the negative feedback from their visitors? Hardly.
And what about Facebook's mission to "make the world more open and connected"?
While Like buttons connect Facebook users to their interests, Dislike buttons serve no such purpose. Like buttons are about connection; Dislike buttons are about division.
In short, Facebook will never add a Dislike button because it would damage the company's relationships with brands, businesses and web publishers -- these groups are essential for building both web traffic and ad revenue.
Like it or not, Dislike buttons aren't coming to Facebook anytime soon.
© 2013 MASHABLE.com. All rights reserved.
FOLLOW THIS TOPIC