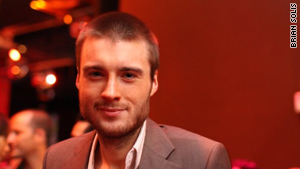 Mashable's Pete Cashmore says there's no doubt that online deals sites are receiving massive interest.
STORY HIGHLIGHTS
Twitter intends to offer special deals and discounts to its users

It launched @earlybird, which will tweet special offers to its followers

Companies such as Amazon, Woot and JetBlue have experimented with same model

Editor's note: Pete Cashmore is founder and CEO of Mashable, a popular blog about social media. He writes a weekly column about social networking and tech for CNN.com.
(CNN) -- Twitter intends to offer special deals and discounts to its users, the company revealed this week. Is this a smart move for the social messaging site, or just an attempt to leap aboard the "online deals" bandwagon?
Twitter's first venture into online shopping is simple in its execution: The company has launched an account called @earlybird, which will Tweet special offers to its followers.
The Twitter community "can expect deals in fashion, tech, travel and entertainment," a representative said. The new account was first spotted by the blog ReadWriteWeb last week.
The online deals hype
There's no doubt that online deals sites are receiving massive interest, investment and hype: " 'We'll distribute great local deals to our audience' is the business model meme of the year," tweeted PayPal founder Max Levchin.
Investors have piled in on the trend. Market leader Groupon, which kicked off this year's "group buying" boom, has raised an astonishing $173 million in funding. LivingSocial, its nearest competitor, has raised nearly $50 million to fuel its growth in the high-stakes daily deals market.
New York City-based Yipit, another new entrant in the market, says that 110 Web-based companies now offer daily deals in the U.S. Clearly not all of these upstarts can survive: We can expect a shakeout next year as the market matures. Many of these young pretenders will flop; others will be acquired by the market leaders as they battle for territory in the local deals space.
Twitter deals: a tested model
However, while it would be easy to write off @earlybird as a classic case of bandwagon jumping, Twitter has proved itself to be a powerful force in the online deals market: Computer maker Dell says it generated $6.5 million in revenue in 2009 through its special Twitter deals.
Other companies, including Amazon, Woot and JetBlue, have experimented with the same model.
Yet another business model?
Critics might also accuse Twitter of a lack of focus in its pursuit of a business model.
The company makes money by licensing its "firehose" of updates to Google and Bing. A long-rumored ad platform, Promoted Tweets, is also rolling out, albeit much later than expected. Meanwhile, services for businesses were promised but have yet to be delivered.
Early bird deals add yet another tentacle to Twitter's convoluted business model -- a move that could indicate a lack of direction.
Win-win business model
And yet I feel that @earlybird could be a win for Twitter, its users and its advertisers. Not only does the service provide a powerful marketing platform through which offers will spread like wildfire (deals can be retweeted to your followers in a couple of clicks), but deals and savings are a rare exception to a familiar rule -- media consumers are averse to ads.
Twitter could have chosen to simply place paid tweets into streams without consulting users, but such a move would surely result in a backlash. Instead, @earlybird offers an enticing compromise: Users willingly opt into these "ads," hoping to score a great deal.
What if @earlybird fails? Even if the concept never gains traction, Twitter is unlikely to see much fallout. Setting up a new account and tweeting deals provided by advertisers take minimal effort on Twitter's part: With the possibility of big returns should the idea succeed, @earlybird is a no-brainer.
The opinions expressed in this commentary are solely those of Pete Cashmore.
© 2013 MASHABLE.com. All rights reserved.
FOLLOW THIS TOPIC