LeBron James signs with ... Twitter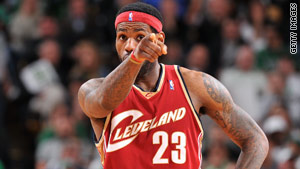 LeBron James finally joined Twitter, although his account gave no free-agency hints as of Tuesday.
STORY HIGHLIGHTS
Coveted NBA free agent LeBron James signs up for Twitter

Friend, fellow star Chris Paul confirmed the account belongs to James

Online speculation moves to whether James will announce his team decision on Twitter

(CNN) -- And you thought LeBron James Watch 2010 was out of control already?
Now, it's moved to Twitter.
The NBA's most coveted free agent signed up for the microblogging site on Tuesday, a close friend and his agent have confirmed.
Chris Paul, a fellow NBA free agent, posted on his own Twitter account that he'd talked the Cleveland Cavaliers (for now) power forward into signing up.
"*** Couldn't convince him to tell me which team he's goin to but convinced him to join twitter lol ... my brother from another mother @kingjames," Paul wrote about noon ET on Tuesday.
By Tuesday afternoon., the account, which links to James' official website, had more than 100,000 followers.
And at about 4:20 p.m., James or one of his associates posted his first message on the account:
"Hello World, the Real King James is in the Building 'Finally'. My Brother @oneandonlycp3 gas'd me up to jump on board so I'm here. Haaaa."
Sports Illustrated was reporting that James' agent, Keith Estabrook, confirmed that the account indeed belongs to James.
Since the NBA season ended, fans and reporters have eyed James' every move for possible hints about his plans. The New York Knicks, Los Angeles Clippers and New Jersey Nets are considered among the front-runners, unless he stays in Cleveland, which is also a possibility.
The creation of the account raised an obvious question: Could James be considering using the site to announce which team he chooses?
"Might we see that news come via James himself on Twitter as opposed to a press conference or a leak to the press?" speculated social-media blog Mashable's editor, Adam Ostrow.
"That's not yet clear, but given it's going to be one of the biggest pieces of sports news this summer, it would be quite the social media splash for James -- who has been mostly absent from the social web thus far in his career -- to announce the decision himself."
James had been slow to enter the world of online social media, even as scores of his fellow NBA stars dived in. The trailblazer was Shaquille O'Neal, an active tweeter who, with nearly 3 million followers, ranks as one of the site's most popular members.
Anyone foolish enough to try to find clues from his barren Twitter profile could go this way; the only biographical information he lists are the words "King of Akron."
Representing his Ohio hometown surely means he plans to stay in Cleveland, right? Right?
FOLLOW THIS TOPIC