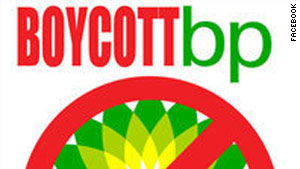 This boycott logo can be found on the Facebook page that was temporarily disabled Monday.
STORY HIGHLIGHTS
NEW: BP says it had "absolutely nothing to do" with page being disabled
"Boycott BP" Facebook page restored after going down Monday
Facebook says the page was removed mistakenly by an automated system
Move prompts criticism by boycott advocates
New York (CNN) -- Facebook is embroiled in another controversy after the popular social networking site on Monday temporarily disabled a page that calls for a boycott of oil giant BP.
Facebook officials said Tuesday the site was removed in error through a technological glitch and has been restored.
The Boycott BP page aims to organize a worldwide boycott of BP stations and all its brands in response to the disastrous oil spill in the Gulf of Mexico. It urges visitors to "Boycott BP stations until the spill is cleaned up." In addition to the station boycott, it advocates boycotting Castrol, Arco, Aral, Amoco, am/pm and even the Wild Bean Cafe.
The group said it has more than 700,000 members.
The site went down Monday, with visitors redirected to Facebook's home page.
Facebook spokeswoman Annika Heinle said there was nothing sinister behind the move, and an automated system mistakenly flagged the page for removal.
"The administrative profile of the BP Boycott page was disabled by our automated systems, therefore removing all the content that had been created by the profile," a Facebook statement said. "After a manual review, we determined the profile was removed in error, and it now has been restored along with the page."
The missing page prompted a protest from Public Citizen, a nonprofit public interest group that has been promoting the boycott. It called the removal of the page irresponsible and said users should be given a better explanation.
"I don't think it's much of an explanation at all," said Greg Beck, a Public Citizen attorney. "They didn't explain why their system took it down, and just the fact that a community that large -- with more than 700,000 users -- could be taken down without explanation is problem. The automated system doesn't tell us that much."
He added, "Facebook and other social websites have become the public squares of the internet -- places where citizens can congregate as a community to share their opinions and voice their grievances. Facebook's ownership of this democratic forum carries great responsibility."
BP said it wasn't involved.
"We had absolutely nothing to do with this. When we were first asked about it we contacted Facebook, and their mistake was rectified," said Robert Wine, a BP spokesman.
The controversy comes as the oil spill is in its 71st day, with BP saying it is likely to take until August before relief wells might be able to stem the flow.
The Boycott BP page is filled with posts from users who decry BP's handling of the spill, as well as a few who say a boycott is not the answer.
BP has more than 11,000 stations in the United States, which sell more than 42 million gallons of gas a day. Critics of the boycott note that BP doesn't own the stations -- independent franchisees do -- and they're the ones who would be hurt.
Advocates said the target of the boycott is wide, and even if they can't make a dent in BP's billions of dollars in sales, they can make a moral point.
FOLLOW THIS TOPIC