Twitter troubles continue into week 2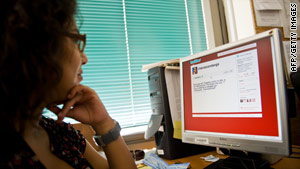 Twitter's troubles continued this week, with a site engineer saying that some users' posts had been deleted and then restored.
STORY HIGHLIGHTS
Twitter service was spotty last week, users couldn't send or receive messages

This week website says some posts were deleted; but they have now been restored

Outages were common in 2009, but less so this year

"There is always room for improvement," engineer writes on Twitter blog
(CNN) -- For the second consecutive week, Twitter is having trouble.
Last week, the website's service was spotty -- with many users complaining that they couldn't send or receive messages at times.
And this week, Twitter says on its Status Blog that some users' posts were accidentally deleted from the site, but then were restored on Tuesday by about 7:10 a.m. ET.
These website woes stem, in part, from Twitter's network being "over capacity," Jean-Paul Cozzatti, a Twitter engineer, wrote on Friday.
Such service outages were common in 2009, as Twitter experienced rapid growth. They have been less-so this year, he writes, "but as this week's issues show, there is always room for improvement: we must apply the same diligence & care in the design, planning, and monitoring of our internal network."
He says Twitter is taking the following steps to address the crashes:
• "We've doubled the capacity of our internal network."
• "We're improving the monitoring of our internal network."
• "We're rebalancing the traffic on our internal network to redistribute the load."
Twitter outages may seem silly to outsiders, but businesses and friends increasingly depend on its network -- and similarly free services from Facebook and Google, among others -- to do business and to socialize.
As such, website outages are met with panic in some social circles.
Still, website maintenance is complex, and some experts have suggested that it is impossible, given current technology, for a company to completely avoid crashes.
Paid services tend to have better "up-time" ratings, however, since companies sometimes guarantee their online services will be working a certain percentage of the time -- usually 99.9 percent -- or they will have to pay a penalty to consumers.
Free services such as Twitter are known to crash more frequently, and these sites don't make "up-time" guarantees to nonpaying patrons.
You can find a full report on Twitter's up-time from the website monitor Pingdom. So far this month, Twitter has been down for four hours and 56 minutes, according to the site. That makes this the worst month for Twitter since October, when the site was down for more than five hours.
FOLLOW THIS TOPIC