Got questions? Facebook wants to give answers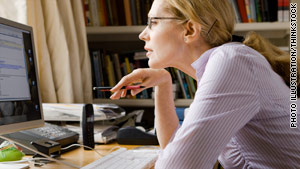 The new Facebook Questions feature will let approved user "experts" answer other users' queries in real time.
STORY HIGHLIGHTS
Facebook Questions, a real-time user-to-user Q&A tool, is announced

Site is asking users to submit sample questions, and answers, for beta testing

Proposed questions tackle dining, dating, politics and entertainment

Feature would take on Google's Aardvark, Yahoo Answers and other established sites

(CNN) -- If Facebook already tells you who's got big plans for this weekend (or what they planted on their FarmVille farm), why not ask it where to grab dinner or whom you should vote for in the next election?
The social-networking giant is asking members to sign up as "experts" for a real-time response feature called Facebook Questions, which it rolled out in beta format Thursday.
A page on the site is asking prospective experts to ask three questions, answer them themselves and submit them.
"Your expert writing will be seen by tens of millions of people -- including job recruiters," Facebook wrote. "And we'll bring our best beta testers out to California to tour Facebook headquarters and meet the team."
Some of the sample questions Facebook proposed:
• How can I get over my fear of flying?
• What are women looking for in a relationship?
• How did the Beatles find success?
The crowd-sourcing move will once again put Facebook head-to-head with some other titans of the Internet. A user-based, question-and-answer service would trod turf similar to well-established Yahoo Answers and Aardvark, which Google purchased in February.
The post urges prospective users to write detailed, articulate answers, not to plagiarize and "[w]here relevant, cite and link to third-party sources such as Wikipedia."
People whose submissions are approved will be contacted by Facebook, the entry said.
In addition to going up against Yahoo, which is working to fend off Facebook as a more popular homepage destination, and Google, which sought to horn in on the social-networking world with Google Buzz, Facebook's Question looks poised to take on some old friends.
As noted by social-networking blog Mashable, the app presumably would compete with Mahalo, created by former Facebooker Jason Calacanis, and Quora -- another Q&A effort by former Facebook employees.
FOLLOW THIS TOPIC