Facebook pulls prisoner pages over taunts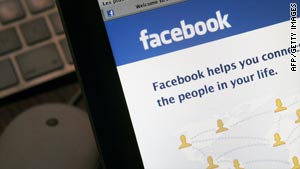 Facebook says it is taking action against pages used to taunt victims.
STORY HIGHLIGHTS
UK Justice Secretary Jack Straw says prisoner Facebook pages pulled
Move follows complaints by victims' families of abuse from murderers
Facebook says it is working to prevent similar incidents happening
London, England (CNN) -- At least 30 pages have been deleted from social networking site Facebook after they were used by British prisoners to taunt their victims from behind bars, government officials said Thursday.
The move came following a request by UK Justice Secretary Jack Straw amid a crackdown on inmates using contraband cell phones or accomplices outside prison to access the Internet to intimidate.
"Like everyone I am deeply concerned about the distress which the abuse of social networking sites causes to families who have lost a loved one through murder as well as for other crime victims," Straw said in a statement.
"The abuse of social networking sites by prisoners is offensive to public morality and decency -- updating these sites from within prison is an offence under prison rules and using them to abuse victims is deplorable."
The move follows a campaign by the families of murder victims, who have complained of prisoners using Facebook to publicize their exploits. Families United, a group representing the victims, met with Straw and Facebook representatives on Wednesday.
Facebook confirmed to CNN it was taking action following the meeting, but said it would not comment on how many pages were affected.
"The Ministry of Justice has confirmed that access to social networking sites for serving prisoners is always prohibited. In light of these reports we are working closely with them to see what further steps and precautions are needed," a statement said.
"Facebook's rules ban from harassment or intimidation. They also prohibit the creation of fake profiles and sharing profile access details with other people and we will remove accounts that violate these policies."
Straw said legislation had been strengthened to criminalize the act of smuggling cell phones into prison. He said "body orifice" scanners had been introduced in prisons to detect communication devices.
He added that parole conditions could changed to cover Internet usage by prisoners.
Facebook spokeswoman Sophy Silver told CNN the networking site was looking at ways to prevent further abuse, but said it was a complicated issue involving the wider world of Internet and mobile communication.
"It is very easy to sum up the problem, but the solution is much, much harder to implement," she said.