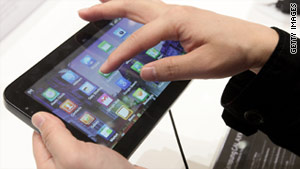 Unlike Samsung's Galaxy Tab, pictured above, Google is working directly with Motorola on an upcoming tablet.
STORY HIGHLIGHTS
The same day Google unveiled its latest version of Android, it gave a glimpse of 3.0

Android 3.0, called Honeycomb, will cater to tablet computers

Motorola is partnering with Google to bring the first tablet designed by Google
San Francisco (CNN) -- Just hours after Google unwrapped the newest version of its smartphone operating system, Android head Andy Rubin gave a peek at the next major release, which will cater to tablets.
At the D: Dive Into Mobile conference kickoff event Monday night, Rubin removed a fabric case from his bag and unzipped it to unveil a black hunk of plastic.
"This isn't due out for a while," Rubin began.
The device, he explained, is a tablet computer that Google is working on with Motorola.
The hardware along with the software it was running bear resemblances to Apple's iPad. Many electronics makers are working on Android tablets with screens that measure 7 inches diagonally. The iPad has a 9.7-inch display, and this mystery device looked to the naked eye about that size.
Notably, the prototype tablet lacks the signature four buttons used to navigate the Android system. This is on purpose, Rubin said.
When turning tablets every which way, the screen shifts its orientation to cater to the user. Fixed buttons on the hardware obviously can't change positions depending on how you hold the unit. Even though the iPad only has one button on its face, "you still get a little lost," Rubin said.
Android's developers have given more thought to simplifying the software, Rubin said. Common tasks should no longer be buried in a sea of menus. Google has also placed a bet on Matias Duarte, the famed designer of Palm's WebOS whom Google hired.
"You'll see the fruits of that investment in the tablet first and then back to the phones," Rubin said of Duarte's work on beautifying Android.
"I would probably characterize Android today as an early-adopter platform," he added. This overhaul would presumably make the system more accessible.
In this inaugural glimpse of Android 3.0, called Honeycomb, Rubin turned on the tablet screen and was greeted with a colorful lock screen. He used his index finger to poke a circular ripple onscreen, and dragged it an inch or so to enter the home screen.
After dodging questions earlier in his fireside chat about integrating video conferencing into Android, Rubin smirked as he fumbled to exit a Google chat application that had video icons sprinkled throughout.
The home screen shows app icons about the size of the buttons on a phone, meaning you can pack more apps and widgets onto the screen.
Rubin then proceeded to show off a new version of Google Maps that can navigate in three dimensions using two-finger gestures. A clockwise turn changes the map's polar orientation. An upward flick shifts the perspective to show the contours of buildings and land.
The new Maps app will be available for Android phones "in a matter of days," Rubin said. An update will join about 130,000 other apps in the Android Marketplace. Certain features will only work on newer handsets.
As for Honeycomb, Rubin provided only a vague timeline of "sometime next year." It will launch first on the Motorola tablet and then on other tablets and smartphones.
The no-button design of this tablet is noteworthy because these types of milestone devices from Google often set the tone for what future Android products will look like.
While Google partnered with Samsung Electronics for the Nexus S smartphone, the Korean hardware manufacturer was on its own for its line of tablets. The Galaxy Tab was based on a version of Android not designed with tablets in mind, so Samsung custom-tailored many apps to work with the 7-inch screen.
A Samsung executive said several months ago that the company would look at integrating Google's official tablet software into Samsung's own stylized version of Android.
Even in this early version of Honeycomb, Android's tablet apps seem more impressively designed than Samsung's. The Gmail app that Rubin showed resembles Apple's Mail program on the iPad or the page you see when navigating to Gmail on an iPad, which itself looks similar to Apple's.
Don't expect Google to slow efforts to mature its smartphone platform any time soon. Despite criticisms about the company giving away Android to manufacturers, the business is healthy, Rubin said.
"We're profitable," Rubin said, acknowledging that mobile ads served to Android users on their own make up for the cost of development. And those efforts are now more focused since Google shuttered its ambitions to be an online seller of phones.
"We bit off a little more than we could chew," he said, referring to the now-discontinued Nexus One phone.
FOLLOW THIS TOPIC