Website: Media magnate Murdoch preps digital newspaper for iPad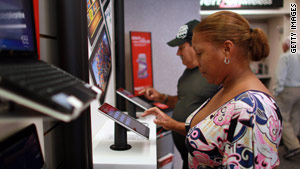 Customers check out iPads in Coral Gables, Florida. Soon they may be reading a digital newspaper on them.
STORY HIGHLIGHTS
"The Daily" would charge internet users a fee to read digital newspaper
Daily would publish every day and cost 99 cents a week, site says
Murdoch has enlisted top-tier talent from his News Corporation empire to run the show
(CNN) -- Media mogul Rupert Murdoch is developing a digital newspaper exclusively for the iPad and other electronic tablet devices, according to the Women's Wear Daily website.
Murdoch, who has made no secret of his ambitions to charge internet users for news content, has assembled a team of journalists for the project, called "The Daily," and hopes to roll out a beta version around Christmas, WWD reported.
Available to the public in early 2011, the Daily would cost 99 cents a week, about $4.25 a month, and true to its name, publish seven days a week, according to WWD.
Murdoch and Apple CEO Steve Jobs have long been bullish on projections that the iPad, and devices like it, will soon evolve into the premiere content-reading device for the web.
Charging for news content has long been a challenge and philosophical crux for news organizations with large online presences such as News Corporation, which Murdoch owns. The Daily would focus on national issues and combine the features of a tabloid and broadsheet publication, WWD reported.
To show the seriousness of the project, Murdoch has enlisted top-tier talent from his media empire to run the show, according to WWD.
Jesse Angelo, former managing editor of The New York Post, will lead the effort, along with journalists culled from media outfits such as Page Six, AOL, ABC News and The New Yorker, WWD reported.
FOLLOW THIS TOPIC