Checked in? 96 percent of Web users haven't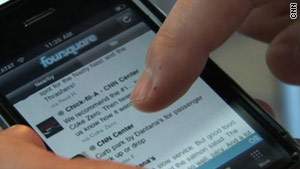 Only a small percentage of Web users "check in" with apps such as Foursquare, report says.
STORY HIGHLIGHTS
Report says most adults haven't "checked in" on mobile, place-based apps
Apps like Foursquare, Gowalla let people tell friends where they are hanging out
Pew Research survey says only 4 percent of online adults use such apps
(CNN) -- Location-based mobile apps such as Foursquare might be among the fastest-growing trends for plugged-in technophiles, but the vast majority of Americans still haven't used them.
That's the finding of a report released Thursday by the Pew Research Center's Internet & American Life Project.
Only 4 percent of adults who use the internet also use mobile apps to share their location and activities with their friends, according to the report.
Just 7 percent of adults who access the Web on their mobile phones "check in" using the apps. And, on any given day, only 1 percent of internet users use the services, the report says.
In the past couple of years, as Web-enabled phones have become more popular, place-based apps have been among the most buzzed-about features in the tech world.
For the most part, the apps let users "check in" wherever they are.
The idea is to let friends know what you're up to, theoretically so you can meet up. Most also have game elements, such as earning virtual rewards or, as on Foursquare, earning a title such as "mayor" of a location if you check in there more than anyone else.
Foursquare has been at the head of the field. And, to be sure, it's seen dramatic growth. The app recently topped 4 million users, after sitting at about a half-million this spring.
Austin, Texas-based Gowalla has positioned itself as Foursquare's chief rival.
Others, such as relative newcomer SCVNGR, also are working to stake out turf in the mobile space and other apps, such as Get Glue and Miso, are seeking to expand the "check-in" concept to TV shows, movies and other entertainment.
In the report, the Pew Center said that, not surprisingly, younger Web users are more likely to use the apps than older ones.
About 8 percent of users 18 to 29 use check-in apps, compared with 4 percent of those 30 to 49, 2 percent of those 50 to 64 and just 1 percent of those 65 and up.
This was the second study Pew had done on place-based apps. The findings showed very little change from a May 2010 survey, when 5 percent of respondents said they'd used the apps.
A Pew report in September suggested that fewer than one in four adults who have phones that run mobile apps use any of them.
The report is based on a survey conducted August 9 to September 13 of 3,001 adults 18 and older. Its margin of error is plus or minus 3 percent.

FOLLOW THIS TOPIC