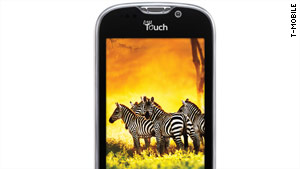 The release of HTC's MyTouch 4G kicks off a T-Mobile marketing blitz for its faster data network.
STORY HIGHLIGHTS
T-Mobile launches an advertising blitz alongside expansion of its so-called 4G network

A Gartner analyst says 4G is a marketing term and that a 4G network doesn't exist today

HTC's MyTouch 4G, an Android smartphone, will support T-Mobile's faster HSPA+ network
(CNN) -- Get ready for an overload of ads about 4G internet.
T-Mobile USA launched an advertising blitz Tuesday for its next-generation data network, alongside a new Android-based smartphone and a 4G rollout to six more cities.
That brings the total number of wireless broadband-enabled cities to 75 for the Deutsche Telekom subsidiary. With more launches planned for the next two months, T-Mobile says it will cover the residences of 200 million Americans by the end of the year.
Compare that to Verizon Wireless, the largest U.S. cellular network by subscribers, which plans to reach 110 million with its fourth-generation network by the end of the year. Sprint Nextel, the third-largest, said its 4G, which first launched two years ago, will reach 120 million this year.
But T-Mobile has been careful not to refer to its High Speed Packet Access Plus network (catchy name, right?) as 4G until this week. HSPA+ isn't technically built on 4G infrastructure.
Then again, none of the current networks meet the official standards for 4G, said Phillip Redman, Gartner's research vice president for mobile wireless. That specification is still being established, he said.
"There is no 4G today. There won't be 4G for five years," Redman said. "So anyone who is calling it 4G today is false advertising."
T-Mobile's high-speed internet can reach speeds on par with or, in many cases, exceeding competitors' so-called 4G transmissions. Research firm Yankee Group includes T-Mobile's network, along with Verizon's and Sprint's, in its classification of 4G because they achieve similar download speeds.
T-Mobile, the fourth-largest U.S. carrier, said it has managed to optimize outputs for its wireless data system and will make further speed enhancements next year.
T-Mobile Chief Technology Officer Neville Ray criticized the 4G network Verizon is adopting, called Long Term Evolution.
"What we see is a technology that's not mature and not really ready for prime time," Ray told CNN. "It takes several years for those wrinkles to be ironed out."
"The good news is HSPA+ continues to evolve too and has a very rich evolutionary path," he said.
Where T-Mobile's next-gen network excels in speed, it lags in a technical term called latency, or transmission delay. Verizon's 4G will have the least latency, followed by Sprint's and finally T-Mobile's, Redman said. Latency is a crucial element for online gaming.
T-Mobile doesn't intend to stop at this stage of its network enhancements.
"We believe in LTE as a technology," Ray said. "We're kind of future-proofing our network."
But in this battle of the marketers, T-Mobile is putting its money where its mouth is, with an ad campaign that's among its biggest this year, a company spokesman said.
Online and on TV, T-Mobile will boast that it has "America's largest 4G network." One commercial takes direct shots at Apple's iPhone and its oft-criticized exclusive carrier, AT&T.
HTC's G2 smartphone, which runs Google's Android, already takes advantage of HSPA+. HTC's MyTouch 4G Android phone and Dell's Inspiron Mini 10 4G (another catchy name) will be in stores on Wednesday. T-Mobile plans to carry tablet devices that support HSPA+ next year, Ray said.
T-Mobile added HSPA+ support to Chicago, Illinois, and five smaller cities in Colorado, Indiana, Kentucky and North Carolina on Tuesday.
With the start of T-Mobile's ad push, Sprint's in full swing, and Verizon's presumably on the horizon, expect to hear a lot more about 4G -- whether or not these networks can truly be classified as such.
"The whole 4G thing started with Sprint," said Redman, the Gartner analyst. "It's a nice marketing term, but what's important is how the network performs."
FOLLOW THIS TOPIC