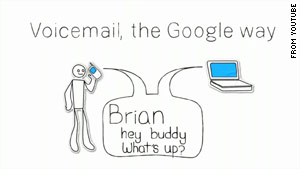 Google Voice apps for the iPhone may not be far away.
STORY HIGHLIGHTS
A Google Voice app may come to the Apple iPhone soon

The app would allow people to send text messages for free and use a Google number

The apps have been controversial, in part because of Apple-Google competition

But new app approval rules from Apple have given at least one developer hope

(CNN) -- Smartphone fanatics have been waiting for months for a Google Voice app to come to the Apple iPhone. Now there's a new sign that this may happen soon.
A developer behind one such controversial smartphone app says he has resubmitted his app to Apple and expects it to be approved in a matter of days.
"It's currently undergoing review, which should last seven to 13 days before hitting the U.S. App Store," Sean Kovacs wrote on his blog Monday.
Kovacs' unofficial Google Voice app -- which is called GV Mobile -- would allow iPhone users to make calls from a Google number, send text messages for free and receive their voicemail as text transcripts.
The app had been submitted and essentially rejected by Apple in the past, he said, but Kovacs believes there is reason to expect things to be different this time around since Apple last week announced changes to its app approval process.
The company has been criticized for being arbitrary about which apps it approves and rejects; Apple responds that it has rejected apps that would degrade the user experience on its devices, like the iPhone, iPod and iPad.
Apple's new guidelines, however, may allow app makers to try new things.
"We have listened to our developers and taken much of their feedback to heart," Apple said in a statement. "This should give developers the flexibility they want, while preserving the security we need."
The Cupertino, California, company also posted guidelines about the kinds of apps it will and won't approve. Those details had been a mystery before.
"We hope it will make us more transparent and help our developers create even more successful apps for the App Store," Apple said in a statement.
Apple has not said whether it will approve Google Voice apps, and the company did not respond to CNN's request for comment on this story.
An official Google Voice app is available for Android and BlackBerry smartphones.
If approved, the GV Mobile iPhone app would cost $2.99, according to Kovacs' post.
iPhone users currently can access Google Voice through a mobile website, but Kovacs said that site lacks some key features. It does not, for instance, pull in contacts from a person's phone, and it runs more slowly, he said.
Google has not said whether it will submit an official Google Voice iPhone app.
"Right now, we offer Google Voice mobile apps for Android and BlackBerry and we offer an HTML 5 web app for the iPhone," a Google spokesman wrote in an e-mail to CNN. "We have nothing further to announce at this time."
Overall, Kovacs said he was pleased with Apple's recent changes with regard to the apps that it will and will not approve.
"I'm a fan of the guidelines -- now that they have them," he said.
FOLLOW THIS TOPIC