Mobile maps make apartment-hunting easier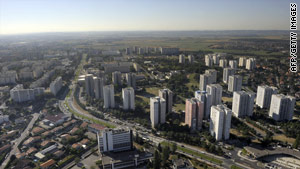 Amy Gahran says custom mobile maps can make apartment hunting less stressful and more organized.
STORY HIGHLIGHTS
Author explains how to make a custom map for apartment hunting

Mobile maps can help you organize apartment choices and locations

This makes comparing transit options and crime data easier

You can also store other info, like links and appointment times, on the map

Editor's note: Amy Gahran writes about mobile tech for CNN.com. She is a San Francisco Bay Area writer and media consultant whose blog, Contentious.com, explores how people communicate in the online age.
(CNN) -- Hunting for apartments can be exhausting and confusing, but you can make it a bit easier with the help of Google Maps on your smartphone.
Currently, I'm looking for a new apartment, and several buildings I'm interested in are holding open houses during the same three-hour window this evening. These places are in the same part of town, but hitting them all in the allotted time frame could require a lot of running around and navigating.
So I took a few minutes this morning to build a custom "my map" in Google Maps on my laptop. I mapped out the route, complete with addresses, listed rent, apartment type and a link to the online rental listing. I put these listings in the order I plan to hit them.
Then, when I'm out, I'll be able to view this custom map as a layer in the Google Maps app on my Android phone. It'll tell me where I need to go next, by what time and how to get there. If I have trouble finding a building, I can pop into street view to check what my destination building looks like. And if I want a quick refresher on the rent, deposit and other details before viewing a rental, I can jump right into the Craigslist listing for that property.
Then, when I get home, I can delete map pins for apartments I don't wish to apply for and change the color coding of pins on the remaining properties to indicate my priorities for applying. In this way, my map supports my decision process and to-do list.
Yes, I could do this with a printed, text-based list and by hand-writing lots of notes on the go. I've done that before, but I felt like all those apartments were a blur, and it wasn't easy to make sense of all the notes. Plus, I hate carrying so much paper around.
Instead, when I manage this information through a map, I tend to form a more cohesive sense of context. I can easily compare key geo-related issues like transit access, crime reports, grocery shopping options, etc.
This "My Maps" trick with the Google Maps mobile app works very well on newer Android phones, BlackBerries, Nokia S60s, and Windows phones. So far, neither the iPhone Google Maps app nor the Safari mobile browser supports custom Google maps directly -- but Chuck Eglinton recently posted instructions on how to make My Maps work on the iPhone via a third-party tool, MyMapsMobile.com.
Other mobile mapping sites or apps also might support a similar strategy. This is just one way to put custom maps to work on your mobile phone. If you have a favorite tool or strategy for using custom maps on the go, please mention it in the comments below.
The opinions expressed in this commentary are solely those of Amy Gahran.
FOLLOW THIS TOPIC