Apple: White iPhone 4 delayed again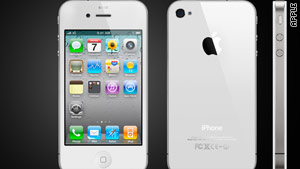 Apple says production of the white iPhone 4 has been challenging.
STORY HIGHLIGHTS
Apple says white iPhone 4 won't be available until "later this year"

Despite glitches, the phone has broken Apple sales records

Tech blog says paint development problem may be causing holdup

(CNN) -- If you're holding off on the iPhone 4 so you can get a white one, you'll have to wait a little longer.
Apple has once again delayed the release of the phone, which CEO Steve Jobs said just last week would be available later this month.
"White models of Apple's new iPhone 4 have continued to be more challenging to manufacture than we originally expected, and as a result they will not be available until later this year," Apple said in a brief news release Friday morning.
No specific release date was announced.
During the preorder process for the iPhone 4, Apple said that the white models of the phone "have proven more challenging to manufacture than expected."
The company at that time said the white phones would be available in late July.
As recently as last week, Jobs confirmed that timetable during a news conference addressing reception problems with the iPhone 4.
Apple, whose earlier products like the iPod and Macs were most easily identified in white, has consistently noted that black iPhones have been more popular.
Friday's release did not specify what the production problems have been.
Tech blog Engadget reported the holdup may be with a Chinese manufacturer, Lens Technology, that makes the glass backs for Apple phones.
According to the report, the company is having trouble developing a shade of paint that reflects the look Apple wants.
Despite the glitch, whatever the cause, the iPhone 4 set Apple sales records after its release June 24, drawing positive reviews. This comes despite "Antennagate," the name given to the fury over the phone's reception problems, which Apple addressed in a hastily called news conference earlier this month.
The smartphone has sold more than 3 million units and has been the most successful product launch in Apple history.