U.S. government launches 17 mobile apps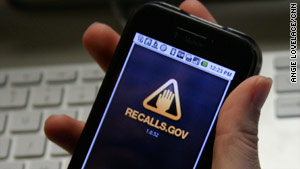 Recalls.gov offers details on federal product recalls and is one of 17 free mobile apps on Apps.USA.gov.
STORY HIGHLIGHTS
USA.gov apps include product recalls, information on criminals

Majority are interactive websites optimized to work well in "microbrowsers"

These low-bandwidth sites are based on Wireless Application Protocol standards

You don't need smartphone, data plan or high-speed data connection to use a WAP site

Editor's note: Amy Gahran writes about mobile tech for CNN.com. She is a San Francisco Bay Area writer and media consultant whose blog, Contentious.com, explores how people communicate in the online age.
(CNN) -- USA.gov has unveiled a slew of free mobile apps that provide information about product recalls, most-wanted criminals and other federal government information and services.
Most of these tools aren't standalone software; instead, they use information from interactive websites optimized to work well in "microbrowsers," the small-size, limited-functionality web browsers that come with many mobile phones.
As far as access to government is concerned, mobile-friendly websites are a very good thing. That's because, as I wrote earlier, the vast majority of U.S. mobile phones in use are not smartphones with full-featured browsers. Also, mounting wireless network congestion can make standard websites frustrating to use on smartphones.
Mobile-friendly, low-bandwidth sites are based on Wireless Application Protocol standards. Such sites can offer useful, personalized features and functions similar to smartphone apps. However, a vastly larger audience of mobile users can access and use WAP sites.
You don't need a smartphone, a data plan or even a high-speed data connection (3G, 4G, Wi-Fi, etc.) to use a WAP site, just a phone with a mobile web browser and an ordinary cell network connection.
There are 17 apps listed on Apps.USA.gov. To help you decide which app version is best for your phone, I've compiled this USA.gov app directory by mobile platform.
A few highlights:
Most are WAP sites: Twelve of the USA.gov apps are available as WAP sites, and most of these (nine) are available only as WAP sites. Also, although the Product Recalls app is listed as offering a mobile-friendly site, in fact Recalls.gov is a standard website that will display very poorly on most web-enabled mobile phones (non-smartphones).
iPhone apps: The FBI Most Wanted app, the NASA app, the BMI calculator and the White House app are available only as iPhone apps. Two other apps (MyTSA and U.S. Postal Service Tools) offer iPhone versions in addition to WAP sites.
Two Android apps: Product Recalls and UV Index
One BlackBerry app: Only the UV Index app has a BlackBerry version. This is a little surprising, since the RIM BlackBerry is by far still the most popular smartphone in the U.S. But, of course, all the USA.gov WAP sites will display well on any of the BlackBerry browsers.
More USA.gov mobile apps are coming as both government agencies and third-party developers find new ways to put government to work in your hand.
FOLLOW THIS TOPIC