Summer reading: Fiction for your cell phone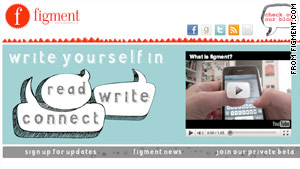 Figment.com will encourage young writers to compose on their cell phones.
STORY HIGHLIGHTS
These days, fiction is being published with small screens, wireless connections in mind

Phenomenon started nearly a decade ago in Japan, has spread to U.S. mobile audiences

Options include CellStories.net, TextNovel.com and Figment.com

Editor's note: Amy Gahran writes about mobile tech for CNN.com. She is a San Francisco Bay-area writer and media consultant whose blog, Contentious.com, explores how people communicate in the online age.
(CNN) -- It's summertime. Like many people, you may not have enough time for an extended vacation in which to devour a juicy full-length novel.
But, if you can steal a few moments for a mini-vacation, you can find some excellent summer reading material right on your cell phone. And you don't even need a fancy smartphone with a pricey data plan capable of running an e-reader app (Kindle, Nook, Stanza, etc.) to do it.
These days, more fiction is being published not just electronically, but specifically with small screens and wireless connections in mind. These short works are different from e-books, because they're meant to be read directly through your phone's browser or even via text messaging.
This phenomenon started nearly a decade ago in Japan, but it's now spread to U.S. mobile audiences.
Here are a few options to check out:
CellStories.net: If your cell phone has a web browser, chances are these short works of fiction (about 5 to 10 minutes of reading time each) will display reasonably well on your phone.
This free publishing project by Dan Sinker features works in several genres by several authors -- with a fair amount of work that's offbeat or slightly bizarre. CellStories are specifically not available for computer-based reading; you can access the stories only from a phone.
Sinker explains: "Why would you want to read something amazing while sitting at a desk? Instead, grab a beer and sprawl out on the couch, or take your lunch break under a shady tree, and then read. Much better, right?"
TextNovel.com: This is a rich resource to find, discuss or publish your own serialized English-language cell phone novels via SMS text messaging or e-mail. Novels are free, but text-messaging charges apply. TextNovel.com, founded by literary agent Stan Soper, also runs contests for text novel fiction writers.
Figment.com: This teen-oriented cell phone publishing project has not yet begun, but it sounds interesting.
Co-founder Jacob Lewis recently explained, "Figment will offer a place for teens to engage with peers, with authors, and with content. They can read a serialized novel by a friend down the block or a short story by their favorite author anytime, anywhere on their computer or their mobile phone. They can write a haiku or a 90,000 word novel while riding the bus to school. They can pick and chose, share and exclaim, write and review."
On Figment.com, you can sign up for projects announcements and a private beta.