Keyboard for iPhone arrives, but it's too late for this user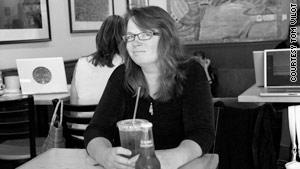 Amy Gahran says she'll bear with her iPhone touchscreen keypad for one more month.
STORY HIGHLIGHTS
Writer Amy Gahran says she been frustrated by her iPhone's touchscreen keypad

New iPhone operating system finally lets you pair a Bluetooth external keyboard with iPhone

Gahran wanted a keyboard so she wouldn't have to lug her laptop around
Editor's note: Amy Gahran writes about mobile tech for CNN.com. She is a San Francisco Bay Area writer and media consultant whose blog, contentious.com, explores how people communicate in the online age.
(CNN) -- I've been an iPhone user for two years, and one thing that's always frustrated me is that my only option for typing on it has been the touchscreen keypad.
(Yes, I know many iPhone fans adore the touchscreen keypad. I never have. It's a matter of taste.)
Most iPhone functions (typing a text message, an address into Google maps, entering my login information for a site or app) require entering only a short amount of text at a time. For this, the touchscreen keypad works well enough. I've even gotten quite speedy on it. But for any writing that runs longer than about a tweet, I find myself getting annoyed -- not to mention a sore right thumb.
That's why I was happy to learn this week (via Jasper Leunk) that the new iPhone operating system (iOS4) finally lets you pair a Bluetooth external keyboard with your iPhone.
I asked my friend Tom Vilot to test this with his Apple external keyboard and iPhone 3Gs, and he reported that those devices paired up quickly and easily. I haven't heard specifically whether this also works for a 3G model iPhone, but I can't see why it wouldn't.
(UPDATE: One CNN.com reader has reported that an iPhone 3G updated to iOS4 was not able to pair to a Bluetooth keyboard. So it's possible this feature might only be available for updated 3Gs phones and, of course, the iPhone 4.)
The reason why I was merely happy (not thrilled) to hear this news is that, for me, it's too late. I've been wanting this feature for years and could not fathom why Apple would choose to allow Bluetooth pairing for telephone headsets but not for keyboards. It's bittersweet that this option only arises now after I've committed to going Android. (I ordered my Verizon Droid Incredible last weekend.)
Why do I want to use a Bluetooth keyboard with my iPhone? So I wouldn't have to lug my laptop around so much. That's riskier, and more tiring.
Often I'm out and about taking notes at events and meetings, writing e-mails, holding instant message conversations, using Facebook, blogging and providing live-event coverage via Twitter and CoverItLive. I also tweet like a fiend. Sure, I can do most of these tasks on an iPhone -- but the touchscreen keyboard is a persistent obstacle.
Admittedly, I'm a bit of a special case: I'm a journalist, blogger and avid social-media user. But many other more typical iPhone users (especially business people, professionals and students) also need to do similar kinds of writing on the go. Using an external keyboard with your iPhone can mean the difference between having to carry a $2,000-plus laptop everywhere with you (increasing your risk of damage, theft or loss -- and tiring your shoulder) or a $200 phone plus an inexpensive keyboard.
Anyway, I definitely won't be upgrading to the new iPhone 4, so this new iOS4 feature probably won't do me any good in the month remaining before my Droid arrives. But I'm glad to see that there is at least one Droid-compatible collapsible Bluetooth keyboard. So I think I'll bear with my annoying iPhone touchscreen for one more month and then gratefully bid it adieu.
Still, I'm glad the expanding population of iPhone users finally has this option. It's definitely not for everyone, but for the iPhone users who really need it, it'll probably save a lot of thumbs, shoulders and laptops.
FOLLOW THIS TOPIC