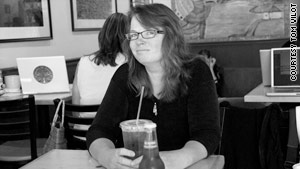 Amy Gahran says Twitter Places is interesting, but partly because it makes for good location-based bloopers.
STORY HIGHLIGHTS
Twitter unveiled new feature called Twitter Places earlier this week

Places makes it easier for Twitter users to "check in" to specific local spots

Author says the feature is interesting, but not as robust as it could be

If anything, it may be good for location-based bloopers, she writes
Amy Gahran writes about mobile tech for CNN.com. She is a Bay Area writer and media consultant whose blog, Contentious.com, explores how people communicate in the online age.
(CNN) -- Earlier this week, Twitter announced a new location-based service, Twitter Places, which could make mobile tweeting more interesting.
For a long time, Twitter has allowed users to specify location information with their tweets. For at least a couple of years, you could manually specify a current location setting for your account, but that was a rough tool, and often inaccurate. (For example, I'd set my location to my home city and forget to change it when tweeting while traveling.)
In 2009, Twitter introduced the opt-in Tweet Your Location feature, which, when enabled, pulled information from your phone's GPS, or if you were tweeting from a computer or non-GPS-enabled wireless device, it guessed your location based on your IP address or from network devices like your wireless router.
Twitter Places adds a new layer of context to the Tweet Your Location idea. Instead of just specifying a city or address, you can list specific points of interest, like Oakland's Kingfish Pub, or Speaker's Corner in Hyde Park, London, England. It's more like checking in on Foursquare or GoWalla. In fact, Twitter has integrated those services to seed its database of Twitter Places.
I just test-drove Twitter Places via Twitter's own iPhone app. (The new feature doesn't yet seem to be integrated into the Twittelator or TweetDeck iPhone apps, but I'm sure updates are coming.) Once I enabled the Tweet Your Location service, I noticed when I hit the app's search icon, there was a small -- perhaps too small -- compass icon next to the text entry field.
Clicking the compass icon brings up a map of nearby current tweets. It refreshes periodically, but you can tell it to refresh at any time.
So far, Twitter's Places feature is minimally interesting to me. It presents me with tweets that are mostly written by people I don't know, and who aren't talking about anything that interests me. They just happen to be nearby at the moment. Also, a little geotag icon appears next to my tweets when I have my location enabled, and clicking that will show where I am on a map. That doesn't exactly thrill me. I'd be more interested if I could follow a Twitter Place over time, the way I can follow a Twitter user or track a hashtag.
The real point of Twitter Places, I think, is what could mean for local search.
If even a small portion of Twitter's users start tweeting their locations, that could be cross-referenced to reveal new types of geographic relevance.
And that could make mobile services far more interesting.
Right now, local search is pretty flawed, especially for mobile where it matters most. For more on this, see a Where 2.0 conference presentation by Danny Sullivan, from the blog Search Engine Land. He lists the main problems with local search: It's inaccurate, it has indexing issues, it brings up privacy concerns and, especially on mobile devices, it's difficult to use.
If social media services like Twitter, Foursquare and perhaps Facebook start doing more with location information, local search could get more useful. Or at least it could get more interesting. This also could get more local businesses interested in mobile advertising.
So far, Twitter Places feels like a bit of a sideshow, like those meaningless Foursquare badges. But it's just getting started, and it's worth watching, especially to see what developers do with with third-party tools using location data released through Twitter's application programming interface. There could be some cool mashups coming.
In the meantime, you can experiment with Twitter Places to see how it works. Just remember to disable "Tweet my Location" when you're done. I'm sure a lot of people will forget to disable Twitter locations, and then we're in for a whole slew of location-based social media bloopers.
"Telecommuting today. Hard at work on my sales forecast report." (Sent from Giants Stadium)
FOLLOW THIS TOPIC