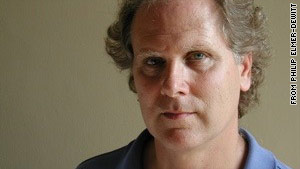 Philip Elmer-DeWitt says Steve Jobs looks healthier than he has in years.
STORY HIGHLIGHTS
Jobs has helped transform personal computing, desktop publishing, music downloading

Apple CEO has been in public eye more in the past few weeks than anytime in recent memory

He's been interacting with customers and critics in a way no CEO ever has before
Editor's note: Philip Elmer-DeWitt writes the Apple 2.0 blog for Fortune.com and is a contributor to the Fortune Tech blog on CNNMoney.com. He has been covering Apple and Steve Jobs since 1982.
(CNN) -- Two weeks ago at the Wall Street Journal's D8 conference, Steve Jobs was asked what he imagined his life would be like 10 years from now.
That's a hard question to put to a man who's lost large parts of his digestive system to pancreatic cancer and who nearly died from acute liver failure just last year.
Jobs paused for a long time before he answered. Fifteen seconds, by our count. We can only imagine what was going through his mind, because by the time he formulated a reply, he had changed the subject.
Apple's CEO actually looks healthier than he has in years, and he's been in the public eye more in the past two weeks than anytime in recent memory. He spent more than 90 minutes onstage for that D8 interview and six days later gave a two-hour keynote at Apple's Worldwide Developers Conference -- an event he missed last year because he was still too sick to attend.
But for all his apparent vigor, Jobs is clearly thinking about his legacy. For one thing, he's invited a high-profile journalist -- Walter Isaacson, the former president of CNN and my former editor at Time -- to write the first authorized biography of his life.
He's also been spending a lot of time at the keyboard lately trying to clear the record and make himself better understood. In April, he published a 1,700-word essay on Flash to explain why he decided to ban Adobe's multimedia platform from Apple's mobile devices. And he's been mixing it up with customers and critics in a way no CEO of a major American company ever has before, answering e-mails from strangers at an extraordinary pace -- at least two dozen in the past 10 weeks. And those are just the ones we've heard about.
So what is Steve Jobs' legacy?
Some would point to the things he's brought to market. The Apple II and the Mac. OS X and iOS. The iPod, the iPhone and the iPad. iTunes, the App Store, the iBookstore. If the products are his legacy, he's got to be thinking about how many more he has in him. If I had my druthers, he'd spend some of the time he has left turning his "hobby" -- the Apple TV set-top box -- into a real product, an iTV that might do for the vast wasteland of television what the iPhone did for cellular telephony.
Others see his legacy in the industries he's helped create or transform -- personal computing, desktop publishing, digital music downloading, computer retailing (those amazing Apple stores) and digitally animated movies (via Pixar, his other company). Lately he's turned his sights on mobile advertising, digital books and the news business -- an industry crying to be rescued.
Some Jobs watchers believe that it is Apple Inc., the company, not Apple's computers, that is his greatest invention. Although he says it's not important, he must take some pride in the fact that this enterprise he co-founded, lost for a decade, and rescued from bankruptcy has now overtaken Microsoft and is the second-most valuable company in America. If that's his gift to history, he's got to be thinking about how Apple can survive and prosper without him.
But we like to think of Jobs' legacy as the Apple way of doing things, of operating, as he's been putting it lately, at the intersection of Technology and the Liberal Arts. This is a man who takes pride in thinking differently, in celebrating the crazy ones, in paying extraordinary attention to detail, in building beautifully simple products and focusing, like no other technologist before or since, on the user experience, on what it's like to live in the digital environment he and his team are creating.
Who is going to do that for us, after Steve Jobs is gone?
FOLLOW THIS TOPIC