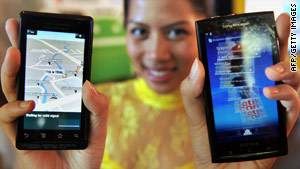 STORY HIGHLIGHTS
New Android phones create interest in Android apps

But you can't search for these apps unless you have an Android phone

Amy Gahran suggests alternative ways to find apps from the Android Market
Editor's Note: Amy Gahran writes about mobile tech for CNN.com. She is a Bay Area writer and media consultant whose blog, Contentious.com, explores how people communicate in the online age.
(CNN) -- The recent debut of the EVO 4G, Droid Incredible and other Android smartphones is probably making more people than ever interested in learning what an Android phone can do.
The trouble is, figuring that out which apps will work on these Android phones is much harder than you think.
The main place to get Android apps -- those "applications" that make smartphones fun -- is the Android Market. Android phones can connect directly to this online store. But if you don't already have an Android phone in hand, you may notice something strange:
So far, you cannot search the Android Market via the Web.
No joke. The Android Market website has tabs for "featured," "top free," and "top paid" apps. However, you can't simply search it to see whether there's an Android app for, say, Netflix. You can browse free apps in the Android Market by category via the Web, but you can't actually search the market.
This seems a bit odd, since the Android mobile phone operating system is a product of Google -- which is the world's leading search engine.
But it is what it is.
To be fair, Apple doesn't offer a Web-searchable version of its App Store, either. (You can browse iPhone apps by category via the web, but you can only search the App Store via iTunes, a piece of software that you can download onto most computers, and which comes comes with the iPhone or iPod Touch.)
Fortunately, there are some ways to search for Android apps. If you want to know whether a certain kind of app is available for Android, and you don't already have an Android phone, here are a few options:
1. Check the app creator's site. If you have a specific favorite app on your iPhone or Blackberry, the most reliable, definitive word on its Android availability would be to check with its creator. Usually on the app creator's site there's a "downloads" or "mobile" section that lists all available app versions. (Examples: Evernote apps and Seesmic apps.)
If your favorite app is not yet available for your desired platform, check the app creator's site, forum, or blog to see whether one is definitely in the works. Sometimes the answer is "no," or at least "not anytime soon" -- and in those cases, you'd need to find alternative apps for those functions.
2. Search third-party app directories. This works for both Android and iPhone/iPad apps. Examples include AndroLib, iPhone Application List, and AndroidZoom. Sites such as these appear to have been created to make up for the lack of searchability in the official app stores.
For instance, AndroidZoom notes: "We are not the developers of the Android applications published in this site; we just give information about them in a comfortable and convenient web layout, accessible from your computer."
These directories may not be 100 percent current and comprehensive, but they are useful -- especially for scouting alternatives when a favorite app isn't yet available on a certain platform.
3. Google app search trick. CNET's Download Blog recently described this trick, which I've found works reasonably well: In a Google search, enter download before the name of the app you seek. Among the top results should be links to that app (if it exists) in the Android or iPhone store.
CNET's Jessica Dolcourt aptly noted, "The principle of tagging onto Google's Web search engine to get to a native app still seems like a roundabout route."
FOLLOW THIS TOPIC