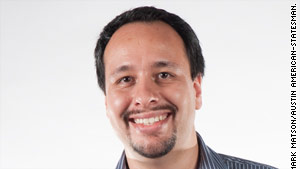 The convergence of TV with other technologies could spell the end of the remote control, Omar Gallaga says.
STORY HIGHLIGHTS
A living-room electronics convergence could spell the end for the remote control

Offerings like Playstation, TV from Google and others, synch TV with games and Internet

RedEye Mini is an app that lets you use smartphone as a remote

We're on the verge of a new age of remote technology
Editor's note: Omar L. Gallaga is a regular technology contributor to NPR's All Tech Considered segment on "All Things Considered." He writes about technology for the Austin American-Statesman and for the newspaper's tech blog, Digital Savant.
Austin, Texas (CNN) -- Well, TV remote control, it was a very impressive 60-year run. But it may soon be time to say goodbye.
No more lost weekends between the couch cushions. No more swapping the order of your AA batteries to get a few more seconds of juice in order to click away from a blaring infomercial.
At least, that seems to be the writing on the wall-sized HDTV.
The living room electronics convergence that was promised back in the late '90s has finally started to materialize.
Our video game consoles download movies. Our set-top cable boxes can display our friends' Twitter feeds. DVD players and HDTVs themselves can stream Netflix movies and feed our home theaters' YouTube videos.
But the humble remote control hasn't really kept up.
Universal remotes have barely evolved in the last 20 years. Clunky, two-handed, touch-screen remotes were in vogue for a while (at least among those who could afford pricey custom installations). And Logitech made a tidy business with its superior Harmony remotes, which downloaded devices' codes from the Internet and could control practically any machine in your living room.
But our HDTVs, media players and set-top boxes aren't very easy to control with a shoe box's worth of assorted remote controls or even the mightiest Harmony device.
The PlayStation 3, for instance, uses Bluetooth, making a standard remote useless to control it without an expensive add-on to convert an infrared signal. In May, Google announced a TV partnership with Intel, Sony and Best Buy, among others, to bring more Internet content to TV and more TV content to the Internet.
It's just one more indication that as our home theater devices are increasingly Internet connected, we'll be more dependent on them for basic Web applications and to search for content streaming.
You probably won't access all that with a keyboard and mouse or a laptop. You'll be controlling it all with devices you're probably already familiar with -- touch-screen Internet devices like the iPod Touch, Android phones, the iPad and any number of other phone or tablet we've yet to see.
We're getting used to typing on such devices. They allow for easy surfing and, most importantly, they lend themselves well to being living-room TV companions.
Applications and hardware add-ons are being made available for devices like the iPhone and Android phones.
One of them, the RedEye Mini ($49), plugs into a phone's headphone jack and blasts infrared signals at your home theater, allowing you to set up commands for watching TV, listening to music or setting your DVR to record a show.
Cable and satellite companies have jumped into the app fray, providing ways for you to set recordings remotely (say if you forgot to record "30 Rock" and won't make it home in time to schedule it), browse TV listings and, in some cases, watch your TV shows live or streamed from your DVR.
Comcast just showed off a demo of an iPad app that will also work directly as a remote to control a cable box.
Samsung, Pioneer and Sony have also introduced apps this year that allow you to control devices like HDTVs and Blu-ray players as long as they're on the same wireless network as your phone.
So why would you give up the friendly, peanut-shaped TiVo remote for a bunch of smartphone apps?
For one thing, your phone is usually not far away (you could have someone call if you lose it) and is far more powerful than a remote control. Other family members could control the family TV with their own phone or tablet if, say, you leave the room on a phone call. And in the case of tablets like the iPad, you might get extra info on your screen alongside the virtual buttons of an on-screen remote.
You might get served bonus video clips, IMDB.com background info, access to chat rooms and Facebook updates right alongside your remote app. And it follows that broadcasters will want to display ads as you browse and channel-flip, too.
The trade-offs -- besides those ads? Currently, devices like the RedEye are not as easy to set up with device codes and handy commands as they should be.
The usual problems with smartphones (too-short battery life, typing that's not always easy for everyone) will make them seem like poor substitutes at first. But they'll help usher in an era of ever-cheaper, off-the-shelf home automation.
Your tablet or phone won't just turn on your TV. It will also show you your energy consumption, turn off the lights upstairs and allow you to adjust the A/C from your recliner.
In much the same way that GPS devices are quickly being ushered out by less-robust but just-good-enough smartphone map applications, the remote control will have a tough time weathering the convergence of apps, mobile devices and Web-enabled TV that's hitting our living rooms.
FOLLOW THIS TOPIC