Apple promises an iTunes day 'you'll never forget'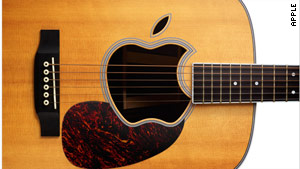 Apple's iTunes announcement Tuesday could involve the ability to stream music and videos anywhere.
STORY HIGHLIGHTS
Apple promises an iTunes announcement Tuesday to create "day you'll never forget"

Speculation centers on a cloud-based ability to access iTunes anywhere

Subscription service, Beatles also a possibility, although Apple isn't giving away any hints
(CNN) -- Apple plans a Tuesday update to iTunes that looks like it might involve making music available everywhere.
Planned for 10 a.m. ET, Apple's announcement could bring together iTunes and cloud computing, a way for users to store their music and videos on remote servers so they can access the libraries from a computer wherever they are.
Other emerging theories? A subscription service. Or a little band called the Beatles.
Apple's teaser for the announcement was done in the Cupertino, California computing giant's typical grandiose style.
"Tomorrow is just another day. That you'll never forget," reads a teaser page on Apple's website.
The page also features images of four clocks, showing the time in California, New York, London and Tokyo, giving further rise to speculation that a "music anywhere"-style announcement is in the works.
Apple is reported to have recently finished building a new data center in North Carolina. Such data centers are used to store data "in the cloud."
Other speculation has centered on iTunes subscription plans that would let users pay monthly for access to movies and music.
"Apple currently offers season pass-pricing on television shows, but that's the closest thing you'll get to an all-you-can-eat content plan in the iTunes Store," wrote Wendy Sheehan Donnell for PCMag."C'mon Apple, please let us pay a monthly subscription fee for all the music and video we care to consume."
And a late-developing rumor involved the long-awaited (dreamed of?) debut of the Beatles' music on iTunes.
The surviving band members and the estates of the others have been famously reluctant to sign up, saying that the quality of digital music isn't good enough to do their catalogue justice.
That being the case, the past few years have seen rumor after rumor that the Beatles were finally going to arrive on iTunes.
The Wall Street Journal was reporting late Monday that this was the time. The article, however, quoted unnamed sources and made a point of noting that they could change their minds at the last minute.
It seems odd that Apple would promise a big day based on something that might fall through. If that means it's a done deal, legions of Fab Four fans will no doubt "never forget."
FOLLOW THIS TOPIC