STORY HIGHLIGHTS
An original Apple-1 computer from 1976 will be auctioned in London later this month

The Apple-1 line is thought to have started the personal computing revolution

Christie's, the auction company, estimates the minimum price at $161,600

Steve Jobs and Steve Wozniak created the computers, shipped them from Jobs' parents' garage

(CNN) -- And you thought the MacBook Air was pricey?
An auctioneer is selling its distant ancestor and one of the world's first personal computers -- the Apple-1 -- for an estimated $161,600 to $242,400.
In 1976, Apple co-founders Steve Jobs and Steve Wozniak built the computer out of Jobs' family garage and sold it for $666.66.
The Apple-1 will be auctioned by Christie's in London, England, on November 23, with a simultaneous auction held online.
The Apple-1 that's up for sale is believed to be one of about 200 of those computers that Jobs and Wozniak created in 1976 and 1977. It comes in an original box -- with the return address pointing back to the California garage where Apple Corp. began -- and features the original Apple logo, which showed Isaac Newton getting hit on the head with an Apple.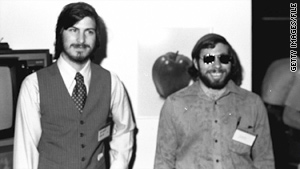 Apple Computer co-founders Steve Jobs (left) and Steve Wozniak at the first West Coast Computer Faire, where the Apple II computer debuted in 1977.
Bonus: It also includes a signed note from Steve Jobs, which is typed on notebook paper.
The tech specs on the computer aren't impressive, and the Apple-1 wasn't shipped with a keyboard or computer monitor.
But the history makes up for that. The Apple-1 is regarded by some as the first personal computer and the gadget that kicked off the home computing revolution. "Prior to this, all home personal computers were sold as kits that involved soldering skills and a knowledge of electronics," the auction site says.
For you hard-core Apple fans, here are the tech specs:
"An Apple-1 motherboard, number 82, printed label to reverse, with a few slightly later additions including a 6502 microprocessor, labeled R6502P R6502-11 8145, printed circuit board with 4 rows A-D and columns 1-18, three capacitors, heatsink, cassette board connector, 8K bytes of RAM, keyboard interface, firmware in PROMS, low-profile sockets on all integrated circuits, video terminal, breadboard area with slightly later connector, with later soldering, wires and electrical tape to reverse, printed to obverse Apple Computer 1 Palo Alto. Ca. Copyright 1976."
However mystifyingly impressive those numbers may look, Nick Bilton from The New York Times writes that this setup "could barely power a game of Pong."
Computerworld says the early computer didn't have a disk drive:
"Like many personal computers of its day, the Apple-1 lacked a floppy drive, but instead loaded programs into memory from cassette tapes. One tape, complete with a typewritten label of 'BASIC,' is included with the Christie's computer, and was used to load that programming language into the Apple-1."
The computer appears to be a rare find.
Christie's says "perhaps a quarter" of the original Apple-1 computers survive, but "very few are in such good, near-original condition with associated ephemera and full provenance."
But Wired.co.uk criticized Christie's estimated price range as too high:
"Despite its incredible rarity, the Apple-1 has previously been known to fetch at best $50,000 at auction, and typically garners more like $14,000 to $16,000. That's a lot lower than the auction's $160,000 to $240,000 estimate."
Several websites and tech blogs joked about the sale.
"Even 34 years ago Apple's hardware was shockingly expensive," wrote The Tech Herald.
That blog also jokingly asked if this computer supported Adobe Flash, a format that doesn't work on some Apple products, like the iPhone and iPad.
The Unofficial Apple Weblog held a bit more reverence for this piece of tech history, musing on the type of person who will buy it:
"Honestly, it'd be nice to see this either bought up by Apple themselves (though Jobs must still have even more interesting treasures from back in those days), or by a museum somewhere. But even if it goes to a private collector, whoever picks it up will likely understand how important it is anyway, and they can make sure to preserve this piece of Apple history."
FOLLOW THIS TOPIC