STORY HIGHLIGHTS
"Home haunters" geek out about creating an intense experience in their front yards
Windshield wiper motors can make giant spiders jump and many other motion displays
Lighting is key; it provides dimension as well as some well-timed frightful moments
(CNN) -- You know the house. The one with sinister animatronics, the fake smoke and a perfectly timed soundtrack of spooky noises. The one that makes small children think twice about ringing the doorbell.
That's the "home haunter's" house. Their obsession with Halloween drives them to create incredible experiences for trick-or-treaters; they are masters at creating a good scare. And they do it by dismantling off-the-shelf items and turning electronic parts into freaky Frankenstein decorations.
"For some reason, we all love to tear apart Christmas props," said Rik Cary, a software designer who lives in Hayward, California.
One home haunter who goes by the online handle of "Halloween Propmaster" took great advantage of an animatronic dancing Santa, Cary said. (One can recognize Cary online as "Perfessor Evil.")
"There was a 5-foot-tall dancing Santa at Wal-Mart one year, and he picked up a number of these on clearance. He's made that into a pirate and a zombie. He used the dancing mechanism itself under one of those singing Douglas fir Christmas trees."
The resulting mashup had the singing tree's lips under a spooky mask atop the dancing Santa's body -- a particularly ghoulish animatronic that synched its movements to sound.
Cary runs HauntProject.com, a website for home haunter projects, many of which are posted by the home haunter community. Most home haunters are motivated to make professional-looking props out of very affordable parts.
iReport: Thousands visit extreme Halloween home
"The most common thing I've seen used is a windshield wiper motor," said home haunter Lawrence Sharp, a systems development engineer for Georgia Tech in Atlanta and a self-professed computer geek.
"It's amazing what people have done with those things, and they're cheap and easy to get. A good [project] is, if you put something on a line like a spider or a dead guy [prop], and you hook one end to a windshield wiper, it will shake the thing up and down."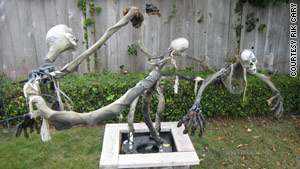 Rik Cary's "Whirling spirits" project combines a windshield wiper motor and a bicycle wheel.
Sharp mentioned a project he was particularly impressed with: a witch figure standing above a caldron that hid a windshield wiper motor. The witch's paddle was attached to the wiper motor so it looked as though the witch was stirring the caldron.
Sharp's favorite Halloween project was making ghosts fly around his front yard, something Cary calls the "holy grail of haunt projects."
It's a "clothesline setup that's on a switch, and it has a motor [which] spins the line, and basically it moves this ghost from one position to another," Sharp said.
"They'll see this thing coming towards them, and it's really quiet, and it comes swooshing up out of the darkness. It's great!
"It was really hard to tweak, though, figuring out an anchor point for the other side, getting the tension on the line right so it didn't flop out of the gears yet it would still move smoothly."
Sharp and his wife definitely have "that house" at Halloween, he said.
They like to take Halloween decorations at their Atlanta, Georgia, home to the extreme, "primarily because it's her birthday."
"But also it's just always been a really fun holiday. It's a lot of fun because it's so different. It's about dark, spooky stuff and scaring people, and I've always thought it was neat. I've always had a thing for 'the Addams Family' and 'the Munsters,' and my wife is a horror fan. We just really get into it," Sharp said.
Sharp develops project ideas with his wife: She says what she'd like to see, and he finds a way to engineer the resulting decoration. He also turns to the October edition of Popular Mechanics, which usually profiles a handful of Halloween projects to tinker with.
Other websites that provide elaborate decoration ideas include the Brandywine Cemetery, the Garage of Evil Network, Instructables and the Art of Halloween Haunting.
Ken Carlson, a producer in Los Angeles, California, whose annual front yard Halloween extravaganza regularly attracts more than 1,000 visitors, said he's all about lighting.
See a time-lapse video of visitors Carlson's house last year on Halloween.
"It really comes down to lighting and up-lighting everything so it becomes even larger and monstrous and takes on larger proportions. A lot of kids call us the haunted forest, even though we don't have a forest; we have a lot of trees and monsters up high, and the lights on them give great depth and perspective," he said.
Cary is especially enamored of one of the lighting projects from Boo-It-Yourself.
"It takes a dusk-to-dawn power supply that has a photo cell on it to detect light. You plug that into the wall; you plug an extension cord into that and your [outdoor] lights into the extension cord. Then you take a simple candelabra flicker bulb, put that in a box with this power supply, and the flickering causes the power to fluctuate on and off, and you've got these great flickering lights."
Sharp also thinks lighting projects are fertile ground for resourceful home haunters.
"There's this really neat trick where you take a fluorescent starter like for a long fluorescent tube, and you wire it in line to a light socket," he said. The light socket is then hooked up to a dimmer switch.
"The fluorescent starters are kind of like a capacitor," making the lights pop on and off, he said.
"You can dial up the speed of that popping with the dimmer. We use it for fire effects all the time, but also it's just kind of creepy. I put them in the bushes in front my porch, and you have all these crazy popping lights in the bushes."
"Another cool project is the 'attack of the mailbox,' and I've got to do that one," Sharp said of a project he found online.
"This guy took a motor and a light and a remote-controlled whoopee cushion, took it all apart, hooked it together and put it in his mailbox so it slaps the mailbox door open and closed and flashes a green light inside of it."
The best part? It's controlled by the whoopee cushion remote control, Sharp said. "So when people walk by, he can hit the button, and the mailbox starts flapping, and the light is flashing."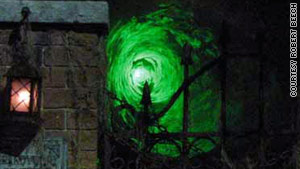 Brandywine Cemetery's "Laser Tunnel" project combines a mirror, a laser pointer and a smoke machine.
With Halloween only days away, Cary said a great last minute project can be achieved with, "materials that every self respecting geek will have on hand."
"It's a laser vortex," he said. "It uses a mirror mounted to a muffin fan, a laser pointer, and a fog machine to create a nifty tunnel effect."
Cary found the project from Robert Beech, who runs the Brandywine Cemetery web site. Instructions can be found here.
For those wanting to join the home haunter ranks next year, Sharp has this advice:
"You need to start a couple months beforehand to make sure you have enough time to tinker with it. The decorative parts are what take the longest. The internet is, of course, a great place to get ideas about how to put stuff together and where to get materials. Don't be afraid to get some items you are comfortable working with, be it a motor or a circuit board or whatever, and start tinkering with it to see what you can make happen."
Carlson said that having "that yard" is a true labor of love.
"It's such a grand scale that every day, I have to tinker. Light bulbs go off; fuses need to be redone; I have to re-hang monsters cause they fall down, so it's a lot of everyday tinkering. I'm somewhat obsessive about it," he said.
"All this geekdom is worth it," he said. "I want the kids to have the ultimate experience like I did [growing up] in Ohio.
"I used to cherish the opportunity of dressing up and being able to suspend reality and become someone else, to have fun and no one judge you," Carlson said. "Now I take it to the extreme."
FOLLOW THIS TOPIC