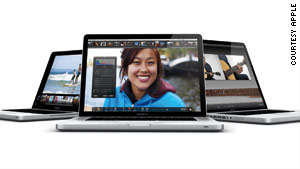 Next year, Apple will launch an app store for Macs similar to its current one for mobile devices.
STORY HIGHLIGHTS
Apple hopes to repeat its App Store success with a similar store for the Mac system

A developer says the rules for the store resemble rules for Apple's current one

The Mac app store is expected to go live in late January
(CNET) -- Can lightning strike twice for Apple in its quest for world software domination? Using the same system it pioneered on the iPhone, Apple is trying to bring its software-distribution system to users of its Mac OS.
Steve Jobs introduced the Mac App Store at a special Mac event on Wednesday, and he sounded very confident that his 600,000-strong Mac developer community would be interested in jumping on board.
It will look and feel much like the iOS App Store, with paid and free sections, most popular lists, and apps highlighted by Apple. But will the same thing that works for phones and tablets work for desktop and laptops?
It's certainly good timing for Jobs' pitch, since the Mac is at its peak.
Apple is selling more Macs than ever right now, a total of almost 14 million in the last year. And with 50 million Mac users worldwide, it's now a $22 billion business for Apple annually, COO Tim Cook reported Wednesday.
Last week, IDC reported that Apple had grabbed 10.6 percent of the PC market, good enough for third place in the U.S. market behind Hewlett-Packard and Dell.
Still, there are some big questions that remain about how a Mac App Store will work, how Apple will enforce rules governing it, and what kind of app makers will join. But here's what we do know, in Q&A format.
When can we use it, and who can access it?
Jobs said Wednesday the Mac App Store's going to be ready in "90 days." That puts us at January 28, 2011, which is about the same time when Apple held its iPad event earlier this year.
Perhaps a final preview to coincide with an iPad 2.0 event next year?
In any case, the Mac App Store will be compatible with Mac OS X 10.6 Snow Leopard Macs starting then and ready for Mac OS X 10.7 Lion Macs next summer.
Will this have the same strict rules as Apple's other App Store?
Though Jobs didn't talk about rules for the Mac App Store on Wednesday, developers have already received them to guide their submissions, which will be taken starting in November. Conveniently for the rest of us, one of the developers leaked the rules already.
So, yes, the rules are in many cases identical to the iOS App Store rules, and when not identical, certainly in the same spirit.
The language is the same kind of rules: no buggy or crash-prone apps, no apps with pornography, defamatory language, no use of private APIs, re-creating apps Apple already makes.
And the (rather amusingly vague) ban on "not very useful" apps, just like iOS's ban on "useless or not entertaining" apps.
But there are also some very specific rules that app makers might take issue with.
Apple says no apps will be allowed that present a licensing screen on launch, neither will apps that require license keys, or that download and install other apps, or download to the dock or leave a shortcut on the desktop.
And if your app's metadata even mentions another computing platform, you're out too.
There are also similar requirements of upholding Apple's very specific development rules. Apps that use "deprecated or optionally installed technologies (Java, Rosetta)" are not allowed. Apple officially deprecated Java Wednesday when it announced it was unlikely to support Java in future versions of Mac OS X.
Apps also can't use third-party installers and must be packaged and submitted using Xcode and use the Mac OS X file system documentation.
And they have to be simple to use and look good, the rules state.
"Apple sets a high bar," it says. "If your user interface is complex or less than very good it may be rejected." Apple also warns that apps that try to alter the native user interface elements of Mac OS X are not allowed.
To read them all, see them here.
Will the App Store be the only way to get software onto a Mac?
No. Unlike the iOS App Store, Apple doesn't play the same gatekeeping role with the Mac App Store--at least for now. You can still buy and install software other ways: from a CD, from a USB key, or from the Web. As Jobs put it, the App Store is not the only way to get apps onto a Mac, but it's "the best way."
But looking ahead, it's not hard to imagine Apple going chiefly with this method of software downloading someday.
At the Mac event, Jobs also introduced two new models of the MacBook Air, which he called "the future of the MacBook." Neither of those have optical drives, so downloading from an App Store or the Web could very well be where he eventually sees most desktop software going.
What kind of apps will be available in it?
It's not clear yet, especially since Apple just gave the guidelines to developers. But think native apps, like Apple's own Pages, which it showed Wednesday. And while it's open to anyone, the Mac App Store is going to be most beneficial to smaller apps that are hard to sell in boxed variety.
The 30/70 Apple/developer percentage of revenue split might be a harder sell for larger developers that don't need Apple's boost to get Mac users' attention.
What are some of the biggest questions that still need to be answered?
The Mac App Store won't be the only way to get software onto a Mac. But its convenience is hard to argue with--so how will Apple retail partners feel about this new method of distribution? Best Buy and international retailers Apple partners sell boxed software, and Apple will potentially take some of those sales.
Who's going to want to give 30 percent of their revenue to Apple if they have other options? Again, the bigger software makers may be less excited by this idea, but smaller ones are very likely to be interested.
© 2010 CBS Interactive Inc. All rights reserved. CNET, CNET.com and the CNET logo are registered trademarks of CBS Interactive Inc. Used by permission.
FOLLOW THIS TOPIC