Macy's 'magic mirror' lets shoppers don virtual clothes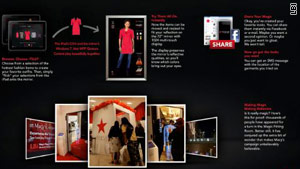 Shoppers can digitally "try on" clothes at Macy's flagship store in New York.
STORY HIGHLIGHTS
Macy's "magic mirror" uses touchscreen tablet computer to let customers try on virtual clothes

Shoppers can send their fashion-ready images to friend via e-mail, text or Facebook
(CNN) -- Macy's shoppers can now check their look in a "magic mirror" in a fitting room, thanks to touchscreen computing.
A large mirror, linked up to a touchscreen tablet computer, lets visitors to the iconic department store chain's flagship New York location scroll through their options, then digitally "try on" clothes in the mirror.
Then they can get quick feedback from friends by posting their image to Facebook or sending it in an e-mail or text.
A camera attachedto the mirror can send images, along with a computer-generated password, to the shopper's friends.
"As the role of retail changes and the lines between physical and digital continue to blur, agencies are tasked with providing innovative solutions,"said Christopher Enright, chief innovation officer with LBi, the digital marketing company that helped build the installation.
Macy's, the 150-year-old chain perhaps best known for its annual Thanksgiving Day Parade, debuted the mirror for the Fashion's Night Out event in September but began promoting it in earnest this week. Thousands of shoppers have used it.
"Reaching out to and engaging with the digital-savvy, young consumer is something all retailers are striving to do," said Joe Feczko, Macy's senior vice president for innovation.
The mirror will be in the store's 34th Street location through November, Macy's said.
FOLLOW THIS TOPIC