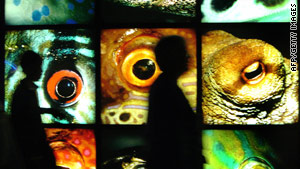 Visitors to the Baltimore Aquarium, shown here, soon will be able to use the SCVNGR app on their visits.
STORY HIGHLIGHTS
SCVNGR is a smartphone app based on "check-ins" and challenges

The app will be used in conjunction with the National Geographic Museum

Visitors can complete challenges at the museum and earn rewards

Other smartphone-enabled exhibits will debut on October 16

(CNN) -- The smartphone app SCVNGR announced Wednesday it is teaming up with National Geographic to try to make visiting zoos, aquariums and museums more like having an adventure or playing a childhood game.
Visitors to select zoos, aquariums and the National Geographic Museum in Washington, D.C., will be able to use the smartphone app to complete challenges, earn points in the app and pick up rewards.
Kids who earn 10 points while touring the Dallas Zoo, for example, will get a free backpack from National Geographic. At that zoo, kids earn points by completing challenges that are somewhat silly but also educational. For example, kids are asked to point their phone's camera at an animal that blends well into its environment. After doing so, the app recognizes that they have completed the "Camouflaged!" challenge, and two points are awarded.
At the Lowry Park Zoo in Tampa, Florida, kids can complete the "Tall as a Giraffe" challenge, in which they snap a picture of themselves in a way that makes them look taller than those long-necked creatures.
And at the National Aquarium, Baltimore, the "Frog Superheroes" challenge asks kids to find a bright-colored frog that defends itself by secreting poison from its skin, and then write in the app about a superpower that they possess.
"That sounds like the best ability ever! Great answer!" the app says to people who complete the challenge. "Did you know that these colorful frogs were not even discovered until 1968?!"
The zoo and aquarium challenges will be featured in four locations, including those mentioned above and the Toronto Zoo, starting on October 16, which is when National Geographic celebrates World Animal Day.
A set of challenges at the National Geographic Museum is available for use now and is tied with an exhibit about geckos. A "Big Smile" challenge at that museum asks people to find a reptile with teeth.
SCVNGR is a "location-based" app, similar to Foursquare and the newly launched Places feature on Facebook. These apps let users "check in" to locations in the real world, earning points and badges along the way. Some of the apps alert a person's friends to his or her whereabouts.
The SCVNGR (pronounced "scavenger") app, which is free and works on both Androids and iPhones, seems to be the most challenge-focused of the bunch. That fits well with National Geographic's mission to help people explore the world and learn about the environment, said Aaron Kohn, vice president of corporate strategy at National Geographic.
"We're, in a sense, extending the interaction in those zoos," he said.
Chris Mahl, who describes himself as the "chief brand alchemist" of SCVNGR, said the app makes learning about zoos and animals into a game.
"You create a game layer on top of these places where people are not only discovering, but they're enjoying the rewards of it and the recognition," he said.
SCVNGR also has partnered with a number of other museums and groups. The city of Philadelphia, Pennsylvania, for example, created a set of challenges -- SCVNGR calls these "treks" -- to help visitors explore the city, Mahl said. Boston, Massachusetts, has a similar challenge set up for the famous Freedom Trail walk.
FOLLOW THIS TOPIC