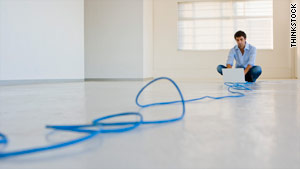 The move by the city of Chattanooga, Tennessee, comes at a time when the United States is focused on broadband speeds.
STORY HIGHLIGHTS
Chattanooga, Tennessee, boasts fastest internet speed in U.S., calls it investment in future

Residential customers can order internet speeds of 1 gigabit per second

The speed comes with a cost, though: $350 per month

(CNN) -- If you want the fastest internet connection in America, it may be wise to skip Silicon Valley and New York. Instead, look to southern Tennessee.
The unlikely city of Chattanooga says it began offering one-gigabit-per-second internet upload and download speeds Monday, a rate it says is the fastest in the United States -- and 250 times the average internet speed in the nation.
The city says the move is an investment in the future.
"It's like any other leading technology, people will invent ways to use it," said Ron Littlefield, mayor of the city of 170,000. "And having it here will bring those inventive minds to focus in Chattanooga."
The faster speeds won't come cheap, however. EPB, the city-owned power company offering the one-gig speeds, will charge about $350 per month for the ultra-fast service.
Harold DePriest, CEO of EPB, said the company is not sure how to price the service since such download and upload rates are unprecedented in the U.S.
"It's a pretty big monthly bill. And a gig is a pretty big speed," he said. "We really don't quite know how to price it. Nobody else has done a gig in this country, and that means we don't know exactly how much it will cost us to offer it."
The faster broadband internet speeds mostly will appeal to business owners, although they are available to residents as well, DePriest said.
Chattanooga's mayor says he won't pay for the higher speeds in his home.
"I don't think I need one gig right now," he said. "I'd need it for about five minutes and I could download the entire text of the Library of Congress [in that time] and that would be enough. I already have the 30-megabit [per second] service and it's lightning fast."
He added: "I do believe there are doctors and engineers and people in the entertainment business and others that will need it and utilize it."
The mayor's connection speed costs less than $60 per month.
Chattanooga's announcement comes at a time when the United States is focused on broadband speeds. The Federal Communication Commission in March announced a plan to try to speed up U.S. internet connections, which reports say are woefully slower than those in some other countries.
That plan would put 100-megabit-per-second connections in 100 million American homes by 2020. Those speeds would be a 10th as fast as those reportedly offered in Chattanooga as of Monday.
The tech giant Google also has thrown itself into the issue. In February, the Mountain View, California, company announced a program called Google Fiber for Communities, which aims to bring internet connections on par with those in Chattanooga to one or more municipalities.
In a blog post about that program, Google product managers Minnie Ingersoll and James Kelly list some of the benefits of faster internet connections, which Google sees as a booster of economic development.
"Imagine sitting in a rural health clinic, streaming three-dimensional medical imaging over the Web and discussing a unique condition with a specialist in New York. Or downloading a high-definition, full-length feature film in less than five minutes. Or collaborating with classmates around the world while watching live 3-D video of a university lecture," the Google employees wrote. "Universal, ultra high-speed Internet access will make all this and more possible."
The search-engine company asked mayors to send in applications to the program, and Google said it will choose a location or locations for the project later this year.
Several mayors pulled wild publicity stunts to grab Google's attention. The mayor of Topeka, Kansas, for instance, temporarily changed the name of his city to Google, Kansas.
Chattanooga didn't participate in the hoopla because its plans for an upgrade were already under way at the time, said Littlefield, the city's mayor.
Verizon also has tested one-gig broadband connections.
DePriest, of the power company in Chattanooga, said the one-gig speeds became available on Monday to 100,000 of his company's 170,000 customers.
The faster speeds will be available to everyone in the company's coverage area, which includes rural areas around the city and extends into north Georgia, by the end of the year, he said.
The quicker connections are achieved primarily by stringing high-speed, fiber-optic cable directly into homes and businesses. Most cities connect homes to a fiber optic network with copper wires, which slow the transmission speed, DePriest said.
When asked why Chattanooga was the first in the U.S. to offer such speeds to residential customers, DePriest said, "Maybe we're the only ones silly enough to do it."
He added, "The technology has been around a while to put together a system that would consistently deliver a gig, but the financial option has not been there for a lot of companies."
The city was already in the middle of upgrading its power grid and internet infrastructure, in part with the help of a $111 million grant from the Department of Energy, DePriest said.
Beefing up the city's broadband speeds at the same time, he said, presented "a fairly minimal additional cost to us."
"As far as we know, it is by far the fastest in the U.S. and among the fastest in the world," he said.
FOLLOW THIS TOPIC