Henry Rollins' favorite on-the-road gadget
STORY HIGHLIGHTS
A master packer, Henry Rollins requires luxuries that offer space efficiency
The hype around Sound Matters' Foxl V2 lives up to Henry Rollins' musician standards
Rollins is "astonished" by the sound quality that comes from such a small package
Editor's note: Henry Rollins tours the world as a spoken-word artist, musician, and curious traveler. He is an actor, radio show host, author of more than 20 books, publishing company and record label owner, and a regular contributor to VanityFair.com with his "Straight Talk Espresso" blog.
London, England (CNN) -- I have spent the larger half of the last 30 years traveling constantly. For days, weeks and sometimes months at a time, all I have is what I can carry -- to airports, train stations, docks to hotels, tour buses, tents and backstage areas. From Cairo to Kabul, Kathmandu and beyond, I haul it all with me, sometimes bringing all my food and water along as well.
Packing for efficiency and utility has become an obsession with me. Anything that makes the pack lighter is great. So, when I come across something that saves me space and weight and on that rare occasion, not only meets but exceeds expectation, I cannot keep the good news to myself.
Many of us have a device that plays mp3s. But to sit in your hotel room with small sound-emitting plugs pounding your ear drums is not always the best way to spend an evening.
There are alternatives to this, and I am sure you have seen the many small sound systems available to plug your mp3 player into. They don't always sound all that good, and they can be bulky, and after a few trips, often find themselves left behind.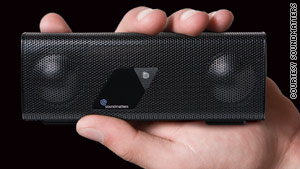 The Foxl V2 sound system retails for just under $200 and can fit in the palm of one's hand.
On this front, there is extremely good news. On the recommendation of my road manager, I checked out information on the Sound Matters Foxl V2 speaker system at http://www.soundmatters.com/. When I saw the size of the gear and the ecstatic reviews, sheer curiosity had me placing an order.
That was a few weeks, half a dozen countries and countless hours of listening ago. It's easily one of the best upgrades to my travel gear since my first mp3 player. I am listening to music through it right now as I write this from Central London.
The Foxl V2 provides warm and solid lows, well-defined mids and distinct highs that do not grate against the listening experience as so many small speakers do, even at hefty volumes.
Many times I have found myself looking at this thing, still astonished at the full and excellently realized sound coming at me. The construction of the casing is rugged, you get plugs for all countries and with every kind of music I have put through the Foxl V2, the results have been great.
So, travelers of all stripes, or any of you looking for a small system for your room or office that can fit in your pocket and go for a good long time on a full charge, this is ultimate gear.