Microsoft demos 'Milo' game at TED Global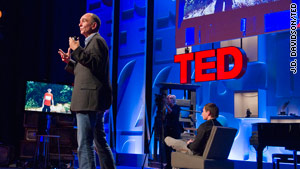 Peter Molyneux demonstrates a prototypical Microsoft game called "Milo" at the TED Global conference.
STORY HIGHLIGHTS
Microsoft demos a prototypical game called "Milo" at the TED Global conference

"Milo" on Microsoft's forthcoming Kinect gaming add-on for the Xbox 360

TED is a group dedicated to "ideas worth spreading"

Editor's Note: CNN partners with TED to feature a talk, with added content, on CNN.com every Tuesday.
Oxford, England (CNN) -- "This talk is a little bit insane," confided Peter Molyneux, the head of the European games division of Microsoft, as he prepared to demo a game called "Milo" at the TED Global conference in Oxford on Tuesday.
He asked audience members to cross their fingers as they waited to see if the live demo would work.
"Milo" is a story-telling game about a little boy who's unhappy because his family has moved from London to New England and his parents are too busy to listen to what's on his mind. Molyneux said his goal with the game, which is still under development, is to recreate the feeling he had as a 4-year-old child when his father told him a story about a robot.
The idea, he said, is to create a real, living boy in a computer.
"Most of it is just a trick, but a trick that works," he said, and the demo seemed to work as well. The Kinect camera, which Molyneux said Microsoft is going to introduce in November, is a device somewhat like Wii, but which controls a game relying on the movement of the player's body, with no controller.
In the demo, a player on stage interacted with Milo, showing him where to find snails in his backyard, suggesting that he squash a snail, skimming stones in a lake, and cleaning up the boy's room.
Molyneux is the founder of Lionhead Studios, which made the role-playing game "Fable" and which was taken over by Microsoft in 2006.
TED Global is a conference run by the nonprofit TED, which is devoted to "Ideas Worth Spreading." It began as a conference focusing on three subjects -- technology, entertainment and design -- but has expanded its scope and now makes more than 700 talks from its conferences available at ted.com.
Molyneux said Milo will get smarter as millions of people play the game. "As a game developer, the only relationship I have with you is through your thumbs," he said, "and that's pretty limiting."
"Milo" aims to help change that relationship.
FOLLOW THIS TOPIC