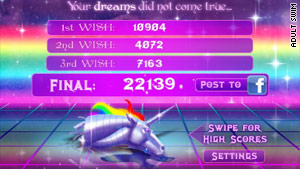 The popular Adult Swim game "Robot Unicorn Attack" is available on the iPhone for $2.99.
STORY HIGHLIGHTS
Adult Swim's website game "Robot Unicorn Attack" moves to the iPhone

Adventure lets player steer a robot unicorn on the way to make its dreams come true

Reviewer: Lack of introduction, game explanation among few drawbacks to overall fun game

App sells for $2.99
(CNN) -- After 20 million gameplays of its massively popular Flash game "Robot Unicorn Attack," Adult Swim has released an iPhone version.
I want to say right upfront that I never played the Flash version of the game -- but had heard a lot of good things about it and was excited about playing the iPhone version.
With that in mind, I still did not know what to expect when I installed the game on my iPhone.
I can see why this game was a huge success on the website of Adult Swim (owned by parent company Time Warner, as is CNN).
You get to make a robotic unicorn run and fly to live out your dreams. How cool is that?
Everyone has dreams ... even, apparently, robot unicorns.
Well, let's face it -- especially robot unicorns.
They have the kind of dreams that include fairies and dolphins and Erasure.
Yes, Erasure.
And they chase them like nobody's business. The game lets you run like the wind and dash like the rain to make those dreams come true.
Let's break down what works and what is not, in my mind, 100 percent there.
Controls: You have the choice of using buttons or gestures. I believe the buttons are the way to go, with a simple one on each side of the screen that you can easily push with your thumbs to make the robot unicorn jump or run with an extra speed boost.
Sound: Great music and sound effects, but the best feature in my mind is that you can turn the sound off and still get feedback in the way of vibration on the phone. That helps when you need to keep your gameplay quiet.
Graphics: Looks as good (if not a little better) than the flash game in that great Adult Swim style that is simple but not too cartoonish to make you feel like you are playing a kids game.
Extra touch: The little things are what make this a fun game. From the ease of play, to the screen where you have died (Crying robots!), it's the sort of details you'd expect from an Adult Swim game.
The game has Facebook integration if you want to tell the world about your "dreams." It's not something I used or really care about, but if you're into that, it is a nice feature.
Cons: I wish there was a bit more of an intro or explanation of the game.
I had to learn what you could and could not hit or run through as I played -- not a big thing, but it was frustrating in the beginning.
Conclusion: Easy-to-use controls, great soundtrack, the ability to turn the sound off and get useful feedback via vibrate and fun in-game tidbits. This feels like a game you'll put on your phone, then pull out to play again and again.
If you're a fan of the Flash version or just looking for something to follow up "Angry Birds" and "Plants vs. Zombies," I'd say give the $2.99 app a try.
FOLLOW THIS TOPIC