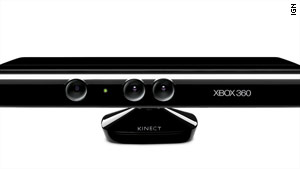 Microsoft announced Sunday it is naming its motion-control gaming system "Kinect."
STORY HIGHLIGHTS
Microsoft gala Sunday night celebrated Project Natal gaming system's renaming as "Kinect"

Like Wii, Kinect is movement-tracking interface; substitutes physical gestures for joysticks

Steinberg: Demo wasn't particularly convincing from a serious gamer's perspective
Editor's note: CNN.com gaming blogger Scott Steinberg is the head of technology and video game consulting firm TechSavvy Global, as well as the founder of GameExec magazine and Game Industry TV. His most recent book is "Get Rich Playing Games."
(CNN) -- Microsoft and Cirque du Soleil jumped the gun on Electronic Entertainment Expo (E3) events with a special pre-show gala Sunday night celebrating motion-control system Project Natal's official renaming as "Kinect."
The lavish soiree was designed to showcase Microsoft's new hardware, a 3-D, movement-tracking interface that eliminates gamepads entirely by substituting physical gestures for joystick presses.
But it was hard to tell just what was being demonstrated at the bash, apart from the Redmond giant's fierce determination to push this hardware to the forefront of successful gaming technology. The smoke, mirrors and half-naked people slathered in face paint didn't quite mask what seemed to be a limited, and undercooked, selection of initial supporting titles and concepts.
Video gaming 'history' to be made this week at E3
Attendees were invited to don colored, light-changing ponchos which gave the proceedings an almost cult-like feel. After stepping through a TV-shaped cutout, guests were treated to a performance complete with dancing aboriginals, little boys dismounting massive plastic elephants to ascend elevating, Xbox-logo-shaped platforms and female performers walking on ceilings.
The spectacle, which employed multiple oversized projection screens, rotating stages built to resemble modern living rooms and a Cheshire-grinning family of four to demonstrate various interactive challenges from river rafting to running hurdles, was one of the most surreal I've ever seen at E3.
But apart from the brief cheers which greeted a "Star Wars" game's demonstration of how players could swing their arms to wield a lightsaber, it wasn't particularly convincing from a serious gamer's perspective.
The demo featured a variety of gaming activities, from hurling javelins to soccer, bowling and volleyball, plus simple dance tutorials and yoga challenges. Also showcased was a racing simulation wherein players could drive a car by turning an imaginary steering wheel.
But none of these applications, from sports-themed mini-games to high-speed arcade outings, seem to promise much more than what you'd find on your Wii console today.
Ironically, it was Kinetic's non-gaming applications -- the ability to browse menus with the flick of a wrist, video chat with friends worldwide using a dedicated camera or play with virtual pets -- that served to best illustrate the hardware's capabilities.
From playing jump rope with cartoon tigers to instantly calling up movies and television shows with a swipe of your hand, Kinetic clearly illustrates that there's room for growth in casual applications.
But Microsoft has yet to show us a signature blockbuster title that speaks to the same audience as traditional, or so-called "hardcore" games -- let alone can compete with the likes of "Call of Duty: Black Ops" or "Rage."
Nor do we have convincing proof that flailing around in front of their TVs will do anything but leave fans exhausted after the first 15 minutes.
Still, it's too early to render a formal verdict on Kinect, as precise hardware details and its launch software lineup remain a mystery. Check back later today, following Microsoft's 1 p.m. ET press conference, for a deeper look at whether or not Kinect has what it takes to move to the top of the pack.
FOLLOW THIS TOPIC