'Batman' game in 3-D is great but blurry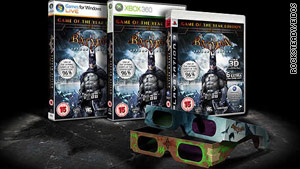 This "Batman" video game looks different from the original if you play it with 3-D glasses.
STORY HIGHLIGHTS
3-D glasses give "Batman: Arkham Asylum" additional sharpness

Four new Challenge Maps are included in Game of the Year edition

TriOviz technology sometimes focuses on wrong subject in scene

(CNN) -- One of the buzzwords in gaming this year is 3-D. Designers and developers are looking at playing and viewing games in three dimensions to give consumers a more realistic experience from their consoles and computers.
"Batman: Arkham Asylum," holder of the Guinness World Record for Most Critically Acclaimed Superhero Game Ever, has been re-released in a Game of the Year version that includes glasses to allow it to be played in 3-D.
The technology, called TriOviz 3D, utilizes colored lenses that expand the depth of field in gameplay but retain the original colors of the environment. It does not require a 3-D-ready television or console to play, and TriOviz says the images can also be seen in 2-D without the glasses.
Despite the addition of four new Challenge Maps, gameplay remains the same as the original released in fall 2009. Batman finds himself trapped inside Arkham Asylum by the Joker, and it is up to you to lead the Dark Knight in a battle against Gotham's criminally insane and super-powered villains.
The inclusion of 3-D really doesn't add anything to gameplay. The effects are mostly limited to making the background appear distant or to give greater depth to waves of convicts coming at Batman during battles.
Since most of the game can be played in "Detective Mode" -- where everything appears gray, with outlines for clues and bad guys -- retaining color in 3-D isn't really a selling point.
There were also moments in the game when my eyes couldn't focus on the proper subject. While Batman was speaking to a guard, both figures went blurry, and the far wall came into focus. After getting through the opening and playing a couple of the early missions, I was forced to stop because of eye fatigue and headaches.
The 3-D element and the extra maps are fine if you don't have the original game. There is some crispness due to the 3-D element in the environments and graphics, but it does go wonky sometimes. 3-D works, but it isn't as much of a game-changer as it could have been: no Batarangs flying out of the screen.
If you have the original, stick with it. If you don't have this title, "Batman: Arkham Asylum: Game of the Year" edition in 3-D is a good selection. You may just need to take plenty of breaks to give your eyes a rest.
FOLLOW THIS TOPIC