Lots of speed with a dash of boom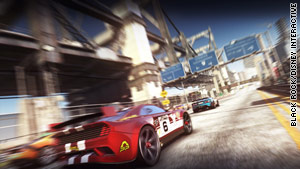 Is that bridge about to collapse on the race course? And can you avoid it in time?
STORY HIGHLIGHTS
Drivers compete in a reality show where speed is not the only weapon

Nuclear towers explode, bridges crumble, burning aircraft land on course

Also, BlizzCon tickets go on sale for 2 days
With the success of reality programs on television, it was only a matter of time before a video game designer would take that premise and create a game full of excitement, explosions and deep TV announcer voices.
"Split/Second" (Black Rock/Disney Interactive) lets gamers become drivers in a new reality, racing show that is part "Carmageddon" and part "Cannonball Run." Racers speed through different tracks in an attempt to qualify for the next episode of a reality show that pits racing stars against one another.
The tracks are similar to Grand Prix racing, where the course flows through cityscapes, but with a twist. Some races occur near airports, ports, warehouses and nuclear power plants.
The graphics are well done with very good detail in the backgrounds and environment. The choice of cars is varied to allow the player to pick a car based on the type of race being run. They handle very well based on their stats and are pretty easy to manage (or so you think).
Sure, racing to a finish line is pretty much a one-trick pony. But this pony is full of excitement and amazement.
Speed is not the only way to win. By drafting or drifting through the course, players can build up a "powerplay" meter to let them create explosions along the track to knock opponents off course or out of the race.
Build the meter up far enough and the explosions just get ridiculous. Along the airport course, the control tower was blown up and fell across the course -- altering the race track. Then a military cargo plane that was on fire attempted to land on the course as cars were racing along.
Nuclear power plant towers are blown out. Huge passenger ships crash into piers where cars are racing. If you think this is extreme, you are just scratching the surface. There are some races where attack helicopters shoot missiles at you in an attempt to slow you down.
For a "reality" program, it is totally unreal. Andthe game is all the better for it.
BlizzCon Tickets Available
Those who would rather get their "reality" in other worlds have their calendars marked for upcoming important dates.
Blizzard Entertainment is ready to release their highly anticipated strategy game, "StarCraft II: Wings of Liberty" on July 27. Blizzard has been refining their game since the beta release earlier in the year.
"Thanks to our beta testers, we're making great progress on the final stages of development," said Mike Morhaime, CEO and cofounder of Blizzard Entertainment.
"Wings of Liberty" will feature the human race for single-player action as well as bring back the Zerg and Protoss races for multi-player gaming. Future installments will bring the non-human races to the front for single-player play.
Blizzard fans are also waiting for June 2 and June 5, when tickets to the 5th BlizzCon gaming convention go on sale. In the past, all tickets were sold on one day, but Blizzard decided to split up the availability of passes to the October convention in Anaheim, California.
Tickets are priced at $150 and can be bought at the official BlizzCon website. Blizzard did not respond to requests for information on how many tickets will be available on each day.
FOLLOW THIS TOPIC