Mixing lightsabers with WOW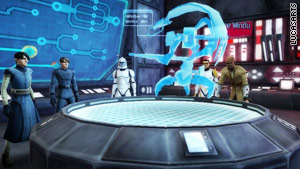 Players will be able to interact with well-known Clone Wars characters like Mace Windu (right)
STORY HIGHLIGHTS
The game is designed to be kid-friendly, with tight parental controls

Playing is free, but there are opportunities to buy more items

"It's also just flat-out fun to play"
(CNN) -- Take a little bit of World of Warcraft, mix with some Cartoon Network and bake it all in the Star Wars mythos and you will get the latest creation in online gaming.
"Star Wars: Clone Wars Adventures" is being put together by Sony and LucasArts. The game will put the player in an immersive world like the one in the Cartoon Network television series with the same name.
Players will be able to interact with Anakin Skywalker, Yoda, Obi-Wan Kenobi and Ahsoka Tano. Sony officials say they are focused on creating a fun and safe online environment for kids and families.
"We've worked with LucasArts and Lucasfilm to create a virtual world that is seamlessly integrated with the TV series and a true extension of the show," Sony Online Entertainment president John Smedley said. "It's also just flat-out fun to play."
Players will be able to pilot starfighters, fight battle droids or solve puzzles. The game is free to play, but players who purchase a monthly membership will have access to more material. They will also be able to get outfits, items and accessories through micro-transactions (pay-as-you-go).
Parental controls allow for the customization of safety options, including pre-canned chat and settings on when younger players are allowed to play.
"Clone Wars Adventures" is expected to be available later this fall.
FOLLOW THIS TOPIC