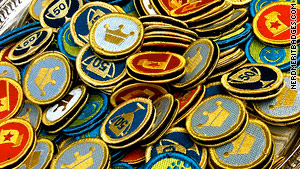 Earning badges or reaching higher levels is the in-thing in the marketing world. But is it overdone?
STORY HIGHLIGHTS
New craze in social-media marketing is to make customers think they're playing a game

Game experiences include earning badges and climbing a ladder of levels

"Game mechanics" can be engaging at first, but could become annoying for some

Zagat, TV networks, Starbucks and Adobe have partnered with Foursquare on sponsored badges
(CNET) -- Earning badges and climbing a ladder of "levels" used to be the respective domains of Boy Scouts and devoted video gamers. No more: It's officially the hottest craze in social-media marketing to make your customers think they're playing a game.
A niche discussion site, Gravity, instantly informs new users that they've earned a virtual "New Kid on the Block" badge, and when they upload a profile photo, they get a "Photogenic" badge -- and there are plenty more where that came from.
An upstart daily deals site called HomeRun is attempting to take a bite out of market leader Groupon by letting repeat users rack up points by participating in and rating deals as well as referring friends; once they have enough points, they're eligible for high-end "private reserve" deals like wine tastings and charity ball tickets.
On Thursday, news outlet The Huffington Post unveiled a set of graphic "badges" to designate participation in comment discussion and moderation.
"From the very beginning we've taken the position that we wanted a large degree of engagement on the part of our audience, our readers," Huffington Post CEO Eric Hippeau told CNET.
"What you're seeing with the badges is the public reflection of what we've been doing for a while now, which is to allow people to be community moderators. Now we give them a badge so that they're recognized as such." There are also badges for frequent commenters and particularly "networked" readers.
"Game mechanics," as this sort of points-and-achievements gimmick is called, is tough to get right: Turning everything into a contest may grab some extra attention at first, but it can easily veer into the annoying. Leaving a well-researched comment about foreign policy on a news story only to earn a cartoon badge for your effort, for example, may seem a little bit inappropriate.
But don't be fooled. Gimmicky game mechanics aren't really the "World of Warcraft"-ization of marketing: they're the first entry of customer loyalty programs, long the sort of thing that even the customers themselves didn't know much about, into the age of Facebook and Twitter.
This business tactic is here to stay, even though the "Animal House" badges might not be.
"I like game playing when it comes to really any kind of service," Gravity Chief Product Officer Steve Pearman told CNET. "It's just a question of identifying what are the right kinds of games to play." At least for now, the games du jour involve racking up what often amounts to little more than bragging rights.
Sometimes, though, there's money involved. HomeRun CEO Jared Kopf says that the still-in-beta start-up's various gaming features - -from the "private reserve" achievement unlocking to a feature called "Avalanche," in which buyers can watch the price of a deal drop as more people spring for it -- are designed to legitimately make commerce more exciting.
"We were trying to determine a mathematical model for concepts of seduction, of addiction, of excitement, and although it wasn't a perfect model we could begin to understand the principles behind what made things feel exciting," he said.
HomeRun's team has experience in convincing users to commit some eyebrow-raising acts in the name of social media: most of them are former employees of Slide, the original home of the sheep throw.
The little company that ignited this fad was almost certainly Foursquare, which may be on its way to finally convincing mainstream Web users that sharing their precise location with their friends is more fun than creepy.
Part of how it was able to do this was through a system of points and achievements which let users compete against their friends, strive to become the "mayor" of a venue by checking in the most, and earn virtual badges based on activity: the "Swarm" badge for checking in somewhere where at least 50 other Foursquare users have made their presence known in the past three hours, or the "Warhol" badge for going to ten different museums and art galleries.
Marketers have jumped on the trend, with restaurant reviewer Zagat, TV networks Bravo and The History Channel, coffee chain Starbucks, and even software maker Adobe partnering with Foursquare to let users earn sponsored badges.
Even the staid Wall Street Journal has caught the Foursquare badge fever, this week heralding the arrival of its New York metro section -- in clear competition with The New York Times -- with three New York-specific badges.
One of them rewards Foursquare users who "check in" at least once to all five of the city's boroughs; it has yet to be seen if the quest for the "Urban Adventurer" badge will actually drive snooty Manhattan residents to Staten Island.
The badges all mean, for the most part, literally nothing, though Foursquare is attempting to build a business model out of tying real-world rewards to in-app achievements.
A handful of local businesses around the country now let the "mayor" of a venue obtain special deals. On Wednesday, PepsiCo unveiled a whole sort of loyalty program centered on Foursquare check-ins, a sign that more sophisticated implementations of Foursquare data are on the way.
"Badges are at the risk of becoming the new banner advertisement," Foursquare director of business development Tristan Walker admitted to CNET. "A lot of folks ask, 'How can you make this scalable?" and I say, 'Do we need to? Can we make it scarce, and make it really high impact for our users?"
To that end, Foursquare requires users to "follow" most brands before being eligible to earn their respective badges. "Sure, people can get sick of it," Walker said. "I think people will still go to the people who are doing it smart. We're never going to give up on game mechanics."
But game mechanics themselves will mature -- much as the viral channels backing Slide's sheep-throwing evolved into the basis for Zynga and Playfish's highly profitable productions. In due time, they'll probably look like their pre-social-media cousins: loyalty programs, credit card points, and referral programs.
Think about the devotees of complicated airline "mileage" systems, whose behavior was satirized in last year's film "Up In The Air." In the movie, George Clooney plays an obsessive business traveler who says of his addiction to frequent flyer miles, "I don't spend a nickel, if I can help it, unless it somehow profits my mileage account."
Still, even with Facebook Connect all over the Web, airlines aren't broadcasting to your friends list that the miles earned on your trip to Rio just bumped you up to the Gold Elite membership class -- well, they aren't yet.
Consumer incentivizing has been, at most, a process only visible to the consumer in question (unless they choose to brag about it) and sometimes even more opaque than that. Generally, you don't know how your drugstore loyalty program card is tabulating your purchasing history, but you're relatively confident that it will churn out discounts for you on a reliable basis.
"Most people wouldn't look at their airline miles on a credit card and say 'this is a game,' but it's a very well executed game mechanic," Gravity's Steve Pearman said. And that's a sign that in the long run, the blatantly "game"-like elements will be toned down.
After all, this really only makes sense if users really feel that it's worth competing with others or showing off a sort of status.
"You have to be a social network. You can't just create something where there is no social network," Huffington Post CEO Eric Hippeau said of the company's decision to integrate badges into its commenting community. "We're not a game site. We're not going to reward people for things that don't make sense for them on The Huffington Post."
And yes, it makes sense for badges to be displayed on Huffington Post profiles to give a bit of insight into who the trusted and regular users are in a community of highly opinionated armchair pundits. It makes the whole thing easier.
Meanwhile, maybe you'll want some insight into how you could modify your purchasing behavior to achieve better discounts in your local supermarket's loyalty program, but do you want it to issue you a "Heart Attack" badge when you buy economy-sized jars of mayonnaise for the fifth time, and then share it on your Facebook profile? Probably not.
Disclosure: Huffington Post CEO Eric Hippeau formerly served on the board of former CNET parent company CNET Networks while in a previous role at Softbank Capital.
© 2010 CBS Interactive Inc. All rights reserved. CNET, CNET.com and the CNET logo are registered trademarks of CBS Interactive Inc. Used by permission.