Apple expected to unveil new iPhone in June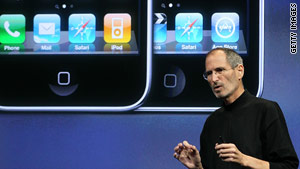 Apple CEO Steve Jobs announcing the iPhone's new operating system earlier this month.
STORY HIGHLIGHTS
Apple has announced its Worldwide Developers Conference will kick off June 7

The company is expected to introduce a new iPhone at the WWDC, as it did last year

We can also expect more details about the next iPhone operating system, iPhone OS 4
(Wired) -- Apple on Wednesday announced the dates of its Worldwide Developers Conference, where the company is expected to introduce a new iPhone (even though tech blog Gizmodo may have spoiled the surprise).
Taking place June 7 to June 11 at San Francisco's Moscone West, the five-day conference includes hands-on sessions for software developers to become familiar with iPhone OS 4 and Mac OS X.
In previous WWDC events, Apple has announced new products during a keynote presentation that kicks off the conference.
Apple has announced new iPhones during both WWDC 2008 and WWDC 2009, so we expect the introduction of a fourth-generation iPhone. Because the conference is software-centric, we can also expect more details about the next iPhone operating system, iPhone OS 4, which was previewed in early April.
Meanwhile, the tech community is still bubbling with a mixture of excitement and anger over Gizmodo's publication of a lost iPhone prototype, which many believe is a near-final version of the fourth-generation iPhone.

Video: New iPhone drama unfolds
Apple engineer Gray Powell reportedly left the iPhone in a bar, which was retrieved by an individual who later sold the device to Gizmodo. The tech blog published photos and videos of the device and later returned it to Apple.
Police have since launched an investigation on the case of the missing iPhone, which involved raiding the house of Gizmodo editor Jason Chen and seizing his electronic equipment -- an action whose validity is being disputed.
Wired.com reported Tuesday that police have identified the finder of the phone, but a name has not yet been disclosed to the public.
Subscribe to WIRED magazine for less than $1 an issue and get a FREE GIFT! Click here!
Copyright 2011 Wired.com.
FOLLOW THIS TOPIC